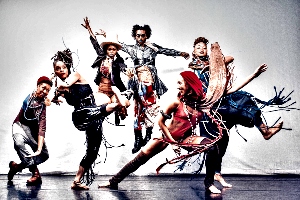 IGNITE @ the FORD brings another stellar dance company to its hillside Hollywood location this Friday, Aug. 30, at 8 p.m. Urban Bush Women, now led by Co-Artistic Directors Chanon Judson-Johnson and Samantha Speis, will present "Hair & Other Stories." Described in promotional materials as "a radical reimagining" of the original "HairStories" (2001), the new work surrounds "dance-theatre with conversations that challenge existing American values and celebrate our choices around 'who we be' and 'how we do.'"
Drawn from personal stories of beauty, identity and race that have been recounted in kitchens, living rooms, social media and YouTube, these narratives uncover the race-related conventions of our nation while celebrating the African diaspora in America. With original music by The Illustrious Blacks (Manchildblack and Monstah Black) and projections designed by Nicholas Hussong, the piece has been called "emotionally captivating" in the Michigan Daily and filled with "heart and humor" in Critical Dance.
The 35-year-old company has taken its mission to give voice to the "untold and undertold histories of disenfranchised people" through movement, music and text all over the world. It will be in Hollywood for just one night.
—Benn Widdey, Culture Spot LA
LOCATION: Ford Theatres, 2580 Cahuenga Blvd. East, Hollywood 90068
TICKETS:        $25 – $50 https://secure.ticketsage.net/websales.aspx?u=fordtheatres&pid=329660
INFO:        https://www.fordtheatres.org/calendar/urban-bush-women-2019