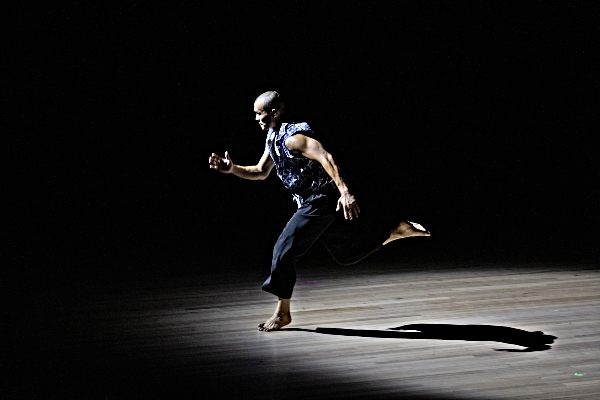 Thanks to UCLA's Center for the Art of Performance, the Bill T Jones/Arnie Zane Company will explode onto the Royce Hall stage this Saturday, Nov. 19, at 8 p.m. For one night only, the company will present its newest work, "What Problem?," in a Los Angeles premiere. An adaptation of a previous production, "Deep Blue Sea," this innovative triptych includes an original score composed by Nick Hallett and produced by HPrizm aka High Priest and a deconstructed text drawn from Dr. Martin Luther King Jr.'s "I Have a Dream" speech and Herman Melville's Moby Dick.
Responding to "the tension between belonging in a community and the feelings of isolation that many feel during these divisive political times," the production is described in promotional materials as "a personal work in pursuit of the elusive 'we.'"
The three-act experience begins with its 70-year-old creator alone on stage, reflecting on King's iconic words and "the scripture of our democracy as formed and shaped by WE THE PEOPLE." He is then joined by his 10-member company of fierce dancers — movers and shakers — and, in the final section, by 20 Los Angelenos. These local participants will generate their own movement vocabulary and create compositional structures that become the basis of this last act. These additional contributors will raise their own set of questions related to Jones' earlier inquiries.
The company has performed in over 200 cities in 40 countries. It is recognized as one of the most thought-provoking and visceral ensembles in the dance-theater field. Following the performance, there will be a post-show Town Hall discussion with the company, its director and the local associates in the Royce Hall Terrace.
—Benn Widdey, Culture Spot LA
LOCATION:
Royce Hall, UCLA, 10745 Dickson Court, LA 90095
TICKETS:
$39-$59
https://ucla.evenue.net/cgi-bin/ncommerce3/SEGetEventInfo?ticketCode=GS%3AMULTI%3AC22%3A514%3A&linkID=ucla-multi&shopperContext=&pc=&caller=&appCode=&groupCode=CAP&cgc=&dataAccId=930&locale=en_US&siteId=ev_ucla-multi&_ga=2.4445299.1557496251.1668543537-977348262.1668543537
INFO:
https://cap.ucla.edu/calendar/details/btj
Bill T. Jones/Arnie Zane Company
Photo credit: Photo by Maria Baranova