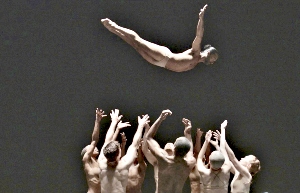 One of the great lessons learned through this devastating COVID-19 pandemic has been the ability of the internet to transmit thoughts, ideas, words, music and images across the globe in nano-seconds. It's not that we weren't aware of this in 2019, but with people needing to stay physically distant from each other, we creatively figured out how to continue to share our hearts and minds through cyberspace. With live performances shut down, some theaters created broadcast versions of their holdings, artists adapted their metier to fit the small screen and, in this case, what would have been an on-site documentary film festival in New York City is now a globally accessible event. The world premiere of "Can You Bring It: Bill T. Jones and D-Man in the Waters" will occur at the 2020 DOC NYC Film Festival online, Nov. 11-19.
Part of the 11th edition of DOC NYC, this cinematic mixture of dance and social history is one of only 10 original films selected for the Metropolis Competition at the festival. These films are dedicated to stories set in the Big Apple. Directed by Loyola Marymount Associate Professor, current Chair of the Dance department and former Bill T. Jones/Arnie Zane Dance Company member Rosalynde LeBlanc and noted documentarian Tom Hurwitz, this feature film includes footage of the recent re-staging of the critically acclaimed work by students at LMU. Rehearsals with the Kennedy Center award-winning choreographer Bill T. Jones include not only movement detail, but trying to impart the urgency and impact of the 1980s AIDS crisis to a generation of dancers who've had limited contact with this older pandemic.
Considered a signature piece of the BTJ/AZ Dance Company repertory, "D-Man in the Waters" explores gender, race, sexuality and socio-political conventions in this and throughout Jones' oeuvre. The film goes beyond the stage version's mixture of movement and music to reveal the depth of its meaning, genesis of its ideas and the environment of its creation in 1989.
—Benn Widdey Culture Spot LA
Location: docnyc.net
Tickets: $12
https://tickets.ifccenter.com/websales/pages/info.aspx?evtinfo=268970~bd725d56-8b11-414c-8cda-9ccb2ad3128d&showing=268997&
Info: https://www.d-mandocumentary.com/