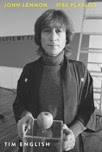 The new book by Tim English, John Lennon: 1980 Playlist, is different than any other book about the famous Beatle. English looks at the last year of John Lennon's life—1980, before he was assassinated—in terms of the music he was listening to, or could have been listening to, based on what Lennon was likely to have heard on the radio at the time and what he heard in clubs in New York City.
Of course, writing another book about Lennon presents challenges. However, as English told Culture Spot LA: "I always seek to write a book that I would want to read myself if it had been written by another writer. I found myself fascinated by the music that John had listened to in the last years of his life, and particularly how those songs at times influenced crucial decisions he made during 1980. These include songs that compelled him to record again such as 'Crazy Little Thing Called Love,' 'Rock Lobster,' and 'Coming Up.'"
"Although many Beatles fans think there is nothing new to learn about John," English added, "I hope I've proved them wrong by explaining things like how the Doobie Brothers influenced the writing of 'Watching the Wheels' and why John was eager to get back in the studio in early December, just two weeks after Double Fantasy had been released."
English's book cleverly presents a very brief biography of Lennon's last year—divided into winter, spring, summer and fall—in terms of the music he probably listened to and its influence on his own musical creativity, all in the context of what was happening politically and culturally at the time. What is revealed may be surprising to many Beatles fans or Lennon-philes, namely, that Lennon's musical tastes were extremely varied and not at all restricted to what most people might think. For example, Lennon listened to Bing Crosby and Donna Summer!
In the brief introduction, English (an apt name for someone writing about Lennon) tells us that despite how the year 1980 ended for Lennon, it was "the year of John's creative rebirth" with a return to the recording studio after a five-year absence. The inspiration, English tells us, was "the same rock and roll music that had galvanized John and changed his life as a teenager."
After the brief introduction, English begins the book with a prologue, which covers 1977 to 1979—his so-called "house-husband years," during which Lennon "remained on the sidelines" musically taking care of his son Sean while Yoko ran the business. Nevertheless, Lennon listened intently to new—and old—music, in particular, that which he heard live in New York City from such artists as Blondie, The New York Dolls, DEVO, as well as music by Tina Turner, Bob Dylan, David Bowie, the Doobie Brothers, The Pretenders, Billy Joel, the B-52s and the Wailers, among many others. And, of course, Lennon listened to his old bandmate, Paul McCartney, who did not sit on the sidelines and continued to write and record music during Lennon's almost three-year absence. As Lennon was already with Yoko, English points out that not only did this music influence him even though he wasn't yet writing again, but it also influenced Yoko's musical output.
Much of the book traces these musical influences on the songs both Lennon and Yoko wrote for their album Double Fantasy, which was released less than a month before Lennon was killed. The book provides a window both into the music that influenced and inspired Lennon for his last album and his life as a Beatle. In fact, much of what was on Double Fantasy saw Lennon return to his musical roots of Buddy Holly and Elvis Presley.
Not only did Lennon listen to music on the radio and in clubs, but he purchased music. His personal assistant at the time, Fred Seaman, is featured prominently in the book because it was Seaman who frequently procured 45s for Lennon's jukebox in his Dakota apartment.
English not only provides a musical guide to Lennon's last few years, but he regales the reader with stories and anecdotes, often involving other musicians, some lesser and some greater, that offer a bigger window into Lennon's fragile genius. English's book provides the reader with a snapshot of the music that Lennon either did listen to, or might have listened to, in the years before his death. But it also reminds the reader who was alive and sentient then of what the music scene was like at the end of the 1970s. If the book doesn't convince you that Lennon was listening to all this music during the last year(s) of his life, then at least it will act as a catalogue of the music of the time, and it places Lennon right smack in the middle of it.
My only qualm—and it is a small one—is that I wish the book had an index not only of the songs and artists, but also of the events and people described.
https://www.amazon.com/Tim-English/e/B0089M5PL0%3Fref=dbs_a_mng_rwt_scns_share
—Henry Schlinger, Culture Spot LA