CD Review: Composer Mark Abel's 'The Cave of Wondrous Voice'
May 13, 2020 | By
Henry Schlinger
| Category:
Classical Music and Opera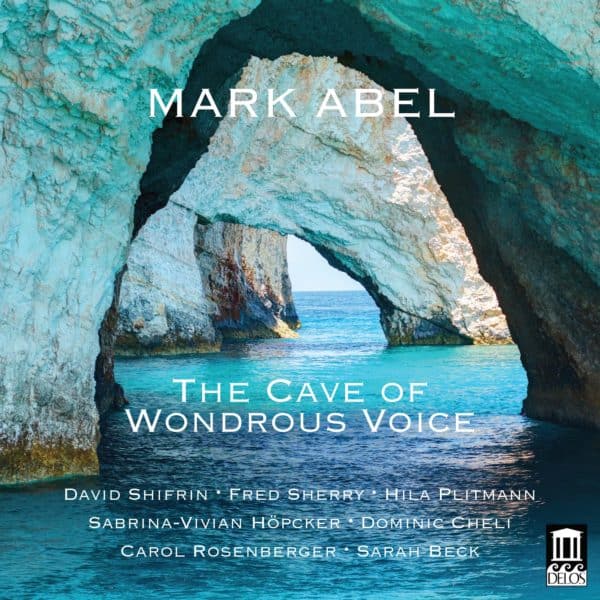 The Cave of Wondrous Voice, the latest recording featuring new works by composer Mark Abel, is itself a wondrous creation. It features a variety of chamber music pieces in a traditional style but with a contemporary sound.
The Delos CD includes three chamber works, two for clarinet, including Intuition's Dance for clarinet and piano and Clarinet Trio, as well as a piece for violin and piano, titled The Elastic Hours, and Four Poems of Marina Tsvetaeva for soprano, English horn and piano.
The two compositions for clarinet bookend the album, beginning with the wispy Intuition's Dance, and both works feature renowned performers, clarinetist David Shifrin and pianist Carol Rosenberger.
Intuition's Dance is a light, free-flowing 10-minute dance with waves of clarinet-piano octaves bridging the more traditional clarinet solo with piano accompaniment. The composition vacillates between flights of fancy and more contemplative moments, which Shifrin and Rosenberger handle very nimbly.
Intuition's Dance is followed by four songs on poems by the Russian poet Tsvetaeva (translated by Alyssa Dinega Gillespie), the first-ever setting of Tsvetaeva's poetry in English translation. The piece is scored, somewhat unusually, for soprano, piano and English horn. Abel and Hila Plitmann have collaborated before and are on the same wavelength for these songs. Plitmann's voice is superb, and the juxtaposition with the English horn, played by Sarah Beck adds to the evocative, earthy nature of each song.
The Elastic Hours for violin and piano is performed by the German violinist Sabrina-Vivian Höpcker and the American pianist Dominic Cheli. The piece consists of two programmatic movements — "What Friday Brought" and "Saturday's Circumference" — although, like Beethoven's sixth symphony, the program is nondescript. As with Intuition's Dance, The Elastic Hours is part playful and part dreamy but always engaging and melodic enough to be accessible to those listeners who prefer traditional classical music to more contemporary pieces. And, as with the other pieces on this CD, the musicians convey Abel's intentions admirably.
In the Clarinet Trio, Shifrin and Rosenberger are joined by the renowned cellist Fred Sherry. The Trio consists of three movements, titled, "The Unfolding," "Taking Flight" and "In Good Time." In the liner notes to the CD, Abel tells us that "the titles emerged spontaneously some months after the work's completion in 2017." The first movement starts off plaintively enough with the cello followed by the clarinet and piano before attaining a forward motion that continues until the last few notes. The movement ends like it begins: plaintively. The second movement is a playful jaunt full of "kinetic energy," as Abel describes it. The third movement begins mournfully, but then gains more life before ending quietly. Abel scored big in getting these world-class musicians to bring his music to life.
In all of these compositions, Abel shows a remarkable sensitivity in not only composing for the particular instruments, but in expressing himself with them. The music is contemporary, but accessible with melodic and harmonic lines that one notices and remembers.  On this CD, Abel has demonstrated a real propensity for chamber music writing. With his previous compositions for voice and piano, he has shown himself to be a composer of lieder, but with The Cave of Wondrous Voice, Abel has announced his arrival as a serious chamber music composer.
–Henry Schlinger, Culture Spot LA
Listen and learn more at the Delos music site: