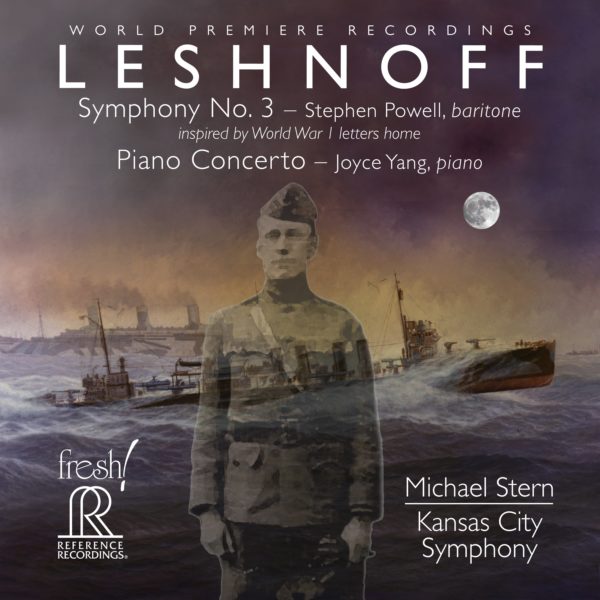 The eighth CD in Reference Recordings' series with the Kansas City Symphony features two new works by American composer Jonathan Leshnoff: Piano Concerto (with Joyce Yang, piano) and Symphony No. 3 (with Stephen Powell, baritone).
The music is fresh and melodic, and, as with all Reference Recordings, the sound is exceptional. And the Kansas City Symphony under the direction of Maestro Michael Stern could be mistaken for one of the more well-known orchestras in the country.
The piano concerto is a work in four movements that tingles with excitement and anticipation. The piano and orchestra complement each other as they do in the great classical and Romantic piano concertos. Leshnoff weaves the piano and orchestra together seamlessly. Yang plays with an uncanny feeling for the music, and Stern sensitively combines it all in a virtuosic performance.
Leshnoff's third symphony was born after a conversation that the composer had with Stern at a coffee shop in Baltimore. Stern indicated that he was looking for a project "that would integrate Kansas City's cultural resources into a symphonic experience." Leshnoff proposed to use letters from World War I soldiers housed in Kansas City at the only WWI museum in America as the backdrop and text for a symphony. The result was his remarkable Symphony No. 3.
His symphony opens with a contemplative slow movement that is Mahlerian in its breadth and depth. Its sweeping melodic line begins quietly enough, almost prayer-like, and then gradually builds into a crashing crescendo with metal anvils before ending as quietly as it began. The tempestuous second movement, titled "Gevurah, with burning intensity," has a perpetual motion as its heart in a very quick six time. Leshnoff describes it as "thirteen minutes of angst and tension, my depiction of war and battles." The third movement features the very reflective singing of Powell, who sings the text from letters written by two servicemen. This final movement returns to the calm of the first movement and the ultimate acceptance of the fate of the servicemen, who, as Leshnoff reveals, actually both survived to be reunited with their families.
Leshnoff's compositions show us that contemporary music doesn't have to be non-melodic. His orchestral writing superbly reflects his fresh and, at the same time, classical ideas.
This world-premiere recording is really a joy to listen to. Bravo to Leshnoff, Stern and the Kansas City Symphony!
—Henry Schlinger, Culture Spot LA
Visit Reference Recordings: https://referencerecordings.com/recording/leshnoff-symphony-no-3-piano-concerto/