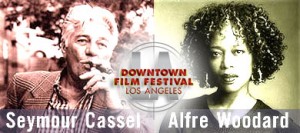 The Downtown Film Festival returns for its second year Wednesday, Aug. 12, to Saturday, Aug. 22.
The nonprofit will screen shorts and features in venues across downtown Los Angeles, including the 500-seat state-of-the-art screening room at the AT&T Center (the festival hub), the historic Los Angeles Theatre, and the Downtown Independent, and host parties (two per night, they boast) and even a free Sustainable LA event and a Digital Art LA festival-within-the-festival.
Some highlights:
Thursday, Aug. 13: Free outdoor double feature of Paul Newman films "Butch Cassidy and the Sundance Kid" and "HUD" at 8:15 p.m. at 7+Fig.
Friday, Aug. 14: Centerpiece Gala featuring "Reach for Me," directed by LeVar Burton and starring Alfre Woodard and Seymour Cassel, who will receive a Lifetime Achievement Award from the Downtown Film Festival. Screening begins at 7:30 p.m. at the United Artists Screening Theater inside the AT&T Center (formerly the Transamerica Center). The gala party will be held on the (32nd) penthouse floor.
Saturday, Aug. 15, to Friday, Aug. 21: Seven nights of films featuring the music of Beethoven, Johnny Cash, Devo, Woodstock, and more at the Grammy Museum's 200-seat auditorium. Plus Q&As with filmmakers and live musical sets.
Saturday, Aug. 22: Closing night brings the West Coast premiere of a documentary chronicling the Jackson Five's 1974 tour in Senegal.