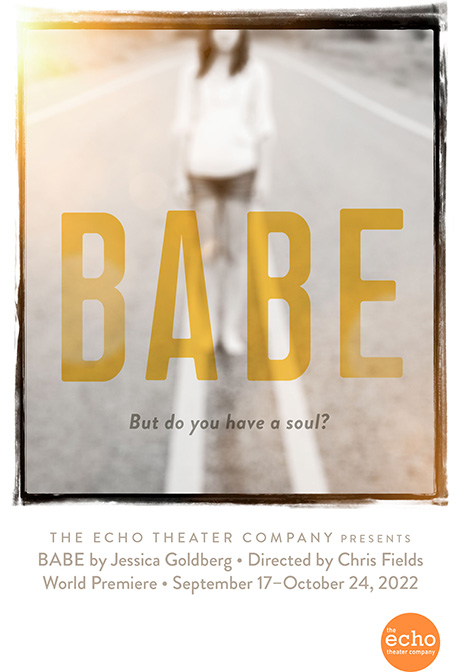 The Echo Theater Company presents, "Babe," a dark comedy by Jessica Goldberg about cultural evolution and the selves we thought we knew. Directed by Echo Theater Company Artistic Director Chris Fields and starring Wylie Anderson, Julie Dretzin and Sal Viscuso, "Babe" runs Sept. 17-Oct. 24 at the Atwater Village Theatre.

Abby has been discovering new talent since the '90s, when she became the right hand to A&R ("Artists & Repertoire") legend Gus. Together, they signed big bands, loved, fought and lived hard. It was the best kind of work marriage — at least that's how Abby sees it. That is until Gen Z Kaitlin shows up, hell bent on showing these old rockers it's 2022, and there's a new generation hell-bent on changing the world. Evolve or die. Who goes down?
ABOUT THE PLAYWRIGHT
Jessica Goldberg is a playwright, screenwriter and television writer. A graduate of NYU's Dramatic Writing Program and the Juilliard School, her play, Refuge, won the 1999 Susan Smith Blackburn Prize.
Her television work includes NBC's Parenthood, and she created and executive produced the critically acclaimed The Path on Hulu. She served as executive producer and showrunner of Away for Netflix starring Hillary Swank. Her work on Away earned her a Gracie Award for Showrunner and a Media Access Award.
Her film work includes the recent Apple original movie Cherry, directed by the Russo Brothers and starring Tom Holland.She is currently writing a movie about Carl Sagan and the Golden Record with director Sebastian Lelio.

ABOUT THE ECHO THEATER COMPANY
Founded in 1997, the Echo Theater Company has won countless Los Angeles Drama Critics Circle, Ovation, LA Weekly and Stage Raw awards, and is frequently cited on end-of-the-year "Best of Lists" including by the Los Angeles Times, LA Observed and NPR affiliate KCRW 89.9 FM, among others. 

SHOWTIMES:
Sept. 17–Oct.24
• Wednesday at 8 p.m.: Sept. 14 ONLY (preview)
• Thursday at 8 p.m.: Sept. 15 ONLY (preview)
• Fridays at 8 p.m.: Sept. 16 (preview); Sept. 23; Sept. 30; Oct. 7; Oct. 14; Oct. 21
• Saturdays at 8 p.m.: Sept. 17 (opening night); Sept. 24; Oct. 1; Oct. 8; Oct. 15; Oct. 22
• Sundays at 4 p.m.: Sept. 18; Sept. 25; Oct. 2; Oct. 9; Oct. 16; Oct. 23
• Mondays at 8 p.m.: Sept. 19; Sept. 26; Oct. 3; Oct. 10; Oct. 17; Oct. 24

LOCATION:
Echo Theater Company
Atwater Village Theatre
3269 Casitas Ave.
LA 90039
Free parking in the Atwater Crossing (AXT) lot one block south of the theater

TICKETS:
Fridays/Saturdays/Sundays: $34
Mondays: Pay-What-You-Want
Previews: Pay-What-You-Want
Call (310) 307-3753 or visit www.EchoTheaterCompany.com.