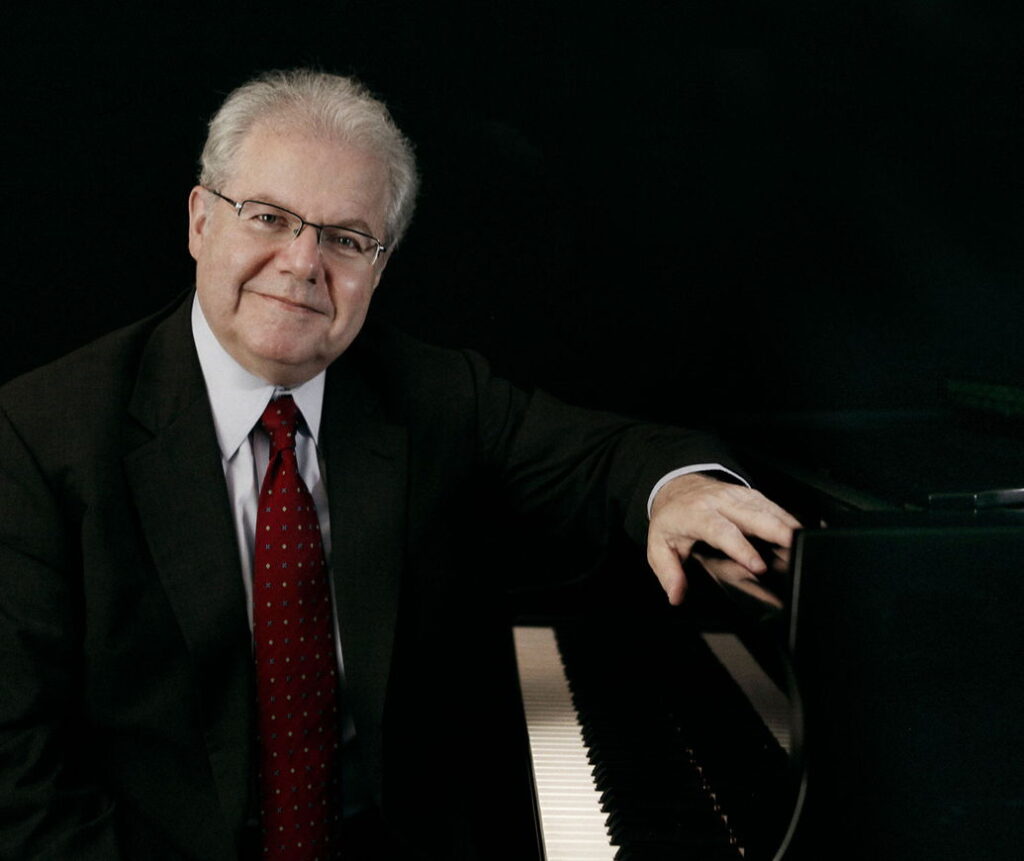 On Wednesday night, the renowned pianist Emanuel Ax held spellbound a packed hall of devout fans at Walt Disney Concert Hall with a program of works mostly by Schubert.
Ax performed the Piano Sonata in A major, D. 664, Op. posth. 120 by Schubert, Four Songs by Schubert transcribed for solo piano by Liszt, Années de pèlerinage, I. Suisse, S. 160, Vallée d'Obermann (Obermann's Valley) by Liszt, and the Piano Sonata in B-flat major, D. 960 by Schubert.
Unlike many of his younger contemporaries, Ax does not have a flashy technique. At a master class at the Colburn School on the previous Monday night, he claimed that his technique is not as good as many other pianists. Ax said that he has always had to work very hard and was not a prodigy with any innate inclination for greatness.
Of course, it's impossible for listeners to notice any problems with his technique. Throughout his long and storied career, Ax has performed concertos and solo works for the piano that demand great technique. But Ax is a humble person. For example, during the master class, he also reported that he has never played the Schumann piano concerto because he has never felt that his technique was up to it. And he seemed embarrassed when complimented.
Discussions of technique aside, Ax is a true artist, and his artistry was on full display on Wednesday night. And what better composer to perform to display one's artistry than Schubert and even the Liszt, Années de pèlerinage.
Schubert's D. 664 A major sonata is not as well known as his D. 959 A major sonata, one of his last three major sonatas for piano. The D. 664 sonata is shorter and much more concise than the later sonatas. It is delightful, uplifting, and almost Mozart-like. Ax added to the charming feel of the sonata with his fluid, effortless playing. It was a perfect hors d'oeuvre for what was to follow.
The four songs of Schubert's that Ax chose to play — "Aufenhalt" (Resting Place), "Liebesbotschaft" (Message of Love), "Der Müller und der bach" (The Miller and the Brook), and "Horch, horch! Die Lerch" (Hark! Hark! The Lark) — were originally composed for voice and piano. Liszt transcribed these and 52 other songs for solo piano, always retaining their vocal quality but often adding his own pianistic virtuosity. These four songs span the range of melody and virtuosity and emotion; and Ax, always the musician, made sure the song was paramount in his playing.
Ax concluded the first half with the Années de pèlerinage, I. Suisse, S. 160, Vallée d'Obermann by Liszt. The piece starts off Schubert-like with a contemplative melody in the lower registers, which is then echoed in the higher registers. The piece maintains its dreamlike quality but gradually becomes more Liszt-like, moving between episodes of intense virtuosity and single-note melodic transitions. The piece is in essence a tone poem for piano, which demands extraordinary technique, which of course Ax exhibited in spades.
Ax saved the best for last (if one can choose a "best" among such great works): Schubert's penultimate piano sonata in B-flat major, D. 960. This sonata was the third of Schubert's three last sonatas written in the weeks before his death but not published until years after his death and not heard universally outside his native Vienna until the 20th century. It's inconceivable that Schubert's great works for the piano were all but neglected until relatively recently. Of course, now, they are acclaimed as some of the great works in the genre.
At the Colburn master class, Ax said that he had never played the B-flat major sonata, but he programmed it for his Disney Hall performance because he wanted to perform it before he got too old (Ax is now 73). I'm sure I speak for the audience on Wednesday night when I say that we are ecstatic that he allowed us to hear him play this masterpiece.
What can one say about this last great Schubert sonata? The first movement, Molto moderato, begins with a melody that upon a first hearing sounds like one has known it forever. In fact, it's impossible not to sing along with it, and one looks forward to its repeat throughout the movement. The movement contains so many other singable melodies, it's as if Schubert was overflowing with them and trying to get them down before he died. The second movement, Andante sostenuto, is achingly beautiful with a rhythmic pattern that is hypnotic. The third movement is a charming Scherzo that suggests, contrary to Schubert's reality, that he had not a care in the world. The final movement, Allegro ma non troppo, fluctuates between minor and major keys until the exhilarating and triumphant ending in B-flat major. It's difficult to believe that given his poor health and imminent death, Schubert could compose such an extraordinarily beautiful masterpiece as the B-flat major sonata.
At the thrilling conclusion of the sonata, the audience rose to their feet and called Ax back to play an encore, another song by Schubert transcribed by Liszt, the beautiful and wistful Serenade, Ständchen, D. 889.
As for Ax, the performance is never about him; it is always about the music. His humility comes across not only in his words, but in his performances. He bows as if he's embarrassed that he's getting so much attention. As a performer, Ax lets his playing speak for itself; and his playing on Wednesday night was captivating.
—Henry Schlinger, Culture Spot LA
Photo credit: Emanuel Ax / Photo courtesy of LA Phil