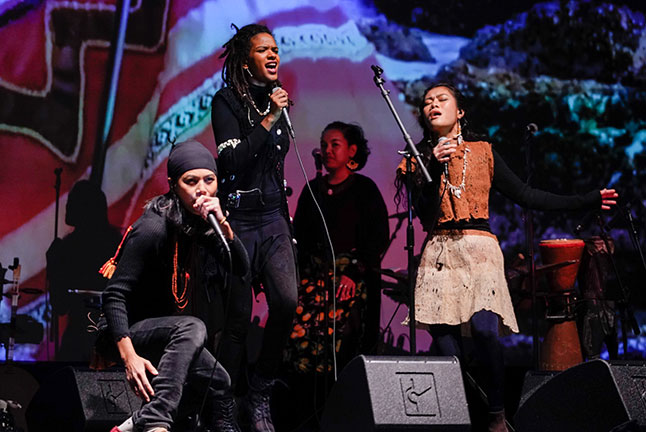 Grand Vision Foundation presents Small Island Big Song, a live music and multimedia concert on Wednesday, April 27, 2022, at 7:30 p.m. at the Warner Grand Theatre in San Pedro. The Small Island Big Song concert is part of a larger multi-platform project—that includes a documentary film and several full-length albums—uniting indigenous musicians who share an ancient seafaring ancestry across the Pacific and Indian Oceans.
Culture Spot readers can win a pair of tickets! Email editor@culturespotla.com with "Small Island Big Song" in the subject line.
Composed, recorded and filmed with the artists, in the languages and with the instruments of the artists' homelands, Taiwanese producer BaoBao Chen and Australian music producer and filmmaker Tim Cole have created an epic contemporary and relevant musical statement from a region at the frontline of global cultural and environmental challenges.
The concert is framed in a theatrical narrative, combining oceanic grooves, soulful island ballads, spoken word and films of the artists' homelands. The Los Angeles event will feature performances by Putad (Amis tribe of Taiwan), Selina Leem (Marshall Islands), Richard Mogu (Magi tribe of Papua New Guinea), Sammy (Merina tribe of Madagascar) and Emlyn, Kan, Kokol, all from Mauritius. 
LOCATION
The Warner Grand Theatre, originally opened as a lavish movie palace in 1931, is located at 478 W. Sixth St., San Pedro 90731.
TICKETS
Small Island Big Song concert tickets range in price from $28 to $105. Call the box office at 310-548-2493 or visit the event page for tickets and more at grandvision.org/event/small island-big-song.
INFO
EVENT: https://grandvision.org/event/small-island-big-song
PROJECT SITE: http://www.smallislandbigsong.com
ALBUM: Bandcamp
Visit the venue's FB and Instagram for artist bios.
Photo: Small Island Big Song U.S. tour 2022 / Photo credit: Kimmi Cranes