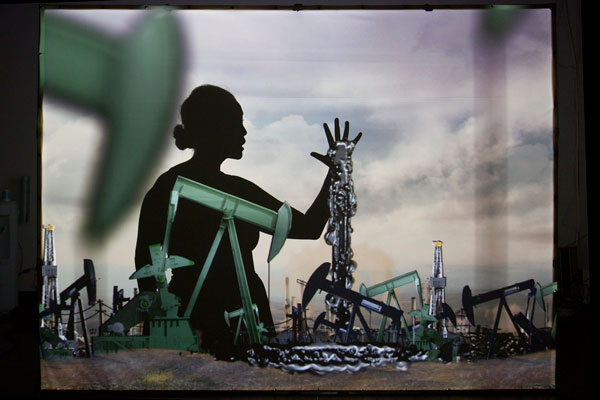 REDCAT presents the Los Angeles premiere of "Infinitely Yours" by animator, designer and performer Miwa Matreyek for three performances Thursday, Jan. 16, through Saturday, Jan. 18, 2020.
The award-winning interdisciplinary creator brings her nightmarish vision of climate grief to Los Angeles audiences before heading to Park City, Utah, for the work's world premiere during Sundance Film Festival's New Frontier program. "Infinitely Yours" will then embark on a North American tour throughout June. All music for "Infinitely Yours" was composed, recorded and performed by Morgan Sornewho will join Matreyek for the REDCAT show as live musical accompaniment.
With a running time of 25 minutes, the L.A. presentation of "Infinitely Yours" will be paired with some of Matreyek's older work, creating an 80-minute program, which will include a 15-minute intermission. Each performance will begin at 8:30 p.m.
Culture Spot LA Readers can win a pair of tickets to Friday's show. Email editor@culturespotla.com with "Infinitely Yours" in the subject line to be entered in a drawing.
Tickets are $22 or $18 for REDCAT members, and all ages are welcome. The Roy and Edna Disney/CalArts Theater (REDCAT) is located at 631, W. Second St., LA 90012. For tickets, please call the box office at (213) 237-2800 or visit https://www.redcat.org/event/miwa-matreyek-infinitely-yours.
• Miwa Matreyek www.semihemisphere.com
• "Infinitely Yours" http://www.semihemisphere.com/#/infinitelyyours
• REDCAT tickets https://www.redcat.org/event/miwa-matreyek-infinitely-yours