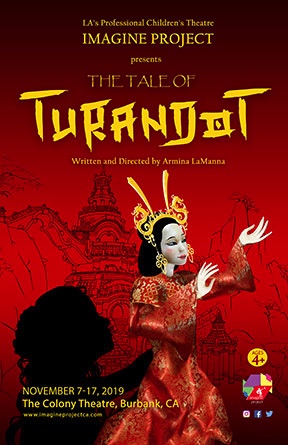 Imagine Project presents its inaugural production, the world premiere of "The Tale of Turandot," a modern theatrical puppetry experience for elementary school-aged children, Nov. 7 through Nov. 17 at the Colony Theatre in Burbank. Imagine Project is Los Angeles's new Equity theatre for young audiences. The company is dedicated to telling stories that spotlight a diverse array of female heroes.
Inspired by the centuries-old story, Armina LaManna wrote and will direct "The Tale of Turandot," which is geared toward children between the ages of 4 and 12. This world premiere play is a multimedia commedia dell'arte experience that includes original music, puppetry, and circus and multimedia elements.
The fable, perhaps best known as Giacomo Puccini's final opera, is set in China and involves Prince Calaf, who falls in love with the "cold" Princess Turandot. LaManna wanted to give Turandot her own voice after reading Carlo Gozzi's 1762 play and later seeing Puccini's opera, challenging the idea that female characters who are smart are somehow less feminine, less desirable and less human. In the original tale, to obtain permission to marry Princess Turandot, a suitor has to solve three riddles; any wrong answer results in death. LaManna's retelling, however, reinterprets events specifically from the perspective of Turandot, a young woman forced to get married at a very young age before she has had the chance to explore the world and learn about herself.
Culture Spot LA readers can win a pair of tickets to the show on Saturday, Nov. 9, at 11 a.m. or 2 p.m. Email editor@culturespotla.com with "Turandot" in the subject line and your choice of time in the body of the email.
LOCATION:
The Colony Theatre, 555 N. Third St., Burbank 91582
(818) 558-7000
SHOW TIMES:
Thursday, Nov. 7 – Sunday, Nov. 17
• Thursday 11/7 – 7 pm
• Friday 11/8 – 7 pm
• Saturday 11/9 – 11 am & 2 pm
• Sunday 11/10 – 4 pm
• Friday 11/15 – 7 pm
• Saturday 11/16 – 11am
• Sunday 11/17 – 4 pm
INFORMATION AND TICKETS: http://imagineprojectca.com