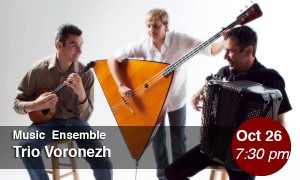 Theatre Raymond Kabbaz (TRK) presents Trio Voronezh on Oct. 26. The internationally acclaimed ensemble produces incredibly exciting sounds and compelling arrangements of classics across a variety of musical styles, all played upon Russian folk instruments. Trio Voronezh's astonishing virtuosity and delightful artistic innovation give the trio the ability to alter the way audiences experience classical, folk and contemporary repertoire.
Culture Spot LA readers can win a pair of tickets. Email editor@culturespotla.com with TRK in the subject line.
The three musicians of Trio Voronezh, Vladimir Volochin, Valerie Petruchin and Sergei Teleshev, play ethnic Russian folk instruments including the domra, a three-stringed long-necked mandolin, the triangular-shaped double-bass balalaika, the national instrument of Russia, and the bajan, a button accordion.
The diverse repertoire of the Trio includes the work of Vivaldi, Bach, Tchaikovsky, Stravinsky, Shostakovich and Rachmaninoff, as well as Russian folk songs, Argentine tangos, gypsy dance music, bluegrass and popular songs by Gershwin. The ever- expanding concert material is arranged by the members of the Trio and performed with extraordinary virtuosity and musical lyricism entirely from memory.
The 90-minute concert with an intermission will start at 7:30 p.m. at Théâtre Raymond Kabbaz, the innovative performance space at Le Lycée Français de Los Angeles, 10361 W. Pico Blvd., LA 90064 (310-286-0553). Tickets are $25 for adults and $15 for students. A no-host bar will be available. Visit http://www.theatreraymondkabbaz.com.