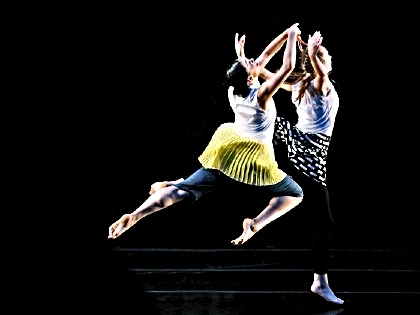 The 39th Annual Concert performed by students at Santa Ana's The Wooden Floor will be presented at the Irvine Barclay Theater Thursday through Saturday, June 2-4, at 8 pm with an additional show at 2:30 pm on Saturday.
What's great about The Wooden Floor's yearly production isn't only that it brings renowned modern dance makers, educators and professional stage technicians to the nationally recognized after-school program's event. But also, the lighting designers, costumers and composers whose full-time gigs are in major art supportive communities (theaters and institutions in New York and LA) collaborate with dozens of students to produce and perform their movement-based creations.
Overseen by Artistic Director Falon Baltzell, this year's program includes new and original dances by female choreographers Kendra Portier, Christina Robson and Baltzell herself. The evening is titled "Hope Abounds," and that's one of the great takeaways from viewing this show.
Though the performers are young and there may be a few cutesy moments that bring a smile to the audience, the bulk of the evening is quite adult. Not so much thematically, as in what adult performances might highlight, but watching a cast of mostly Latino young people move in non-balletic, but raw and refined ways, sometimes speaking of personal experiences, moving to metered and unmetered music much different from TikTok, popular radio and traditional tunes is dramatically inspiring.
This is the next generation. They will deal with the problems we leave behind. They'll have this moment to look back on. Worth the drive.
—Benn Widdey, Culture Spot LA
Location:
4242 Campus Drive, Irvine 92612
Tickets:
$10-$50
https://ci.ovationtix.com/35720/production/1117735?performanceId=11045651
Info:
https://www.thebarclay.org/buy-tickets/2021-2022-season-events/6-2-4-22-the-wooden-floor.html
Photo by Christine Cotter, courtesy of The Wooden Floor