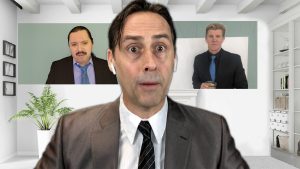 International City Theatre opens its 36th season with a virtual presentation of Art, a heady, hilarious look at the bonds of friendship viewed through the prism of modern art. Yasmina Reza's multiple award-winning play, translated from the French by playwright/screenwriter Christopher Hampton, begins streaming on Thursday, Feb. 18, and will remain available on demand every Thursday, Friday, Saturday and Sunday through March 7. Tickets are $30 per household and are available for purchase now at www.InternationalCityTheatre.org.

How much would you pay for a painting that was a white canvas? Would it be "art"? What would your friends think of it — and of you, for buying it?

When Serge (Brent Schindele, previously seen at ICT in End of the Rainbow, Songs for a New World) purchases an all-white painting for €200,000, his longtime friendship with Marc (Michael Uribes — ICT's Around the World in 80 Days, Robber Bridegroom, Threepenny Opera) and Yvan (Brian Stanton — Around the World in 80 Days, Is He Dead?, Bright Ideas) is put to the test. As the arguments quickly go from theoretical to personal to confrontational and friendship hangs in the balance, the question becomes: how much is a painting worth?

In addition to winning two Molière Awards (France's most prestigious drama prize) and Broadway's Tony Award® for best new play, Art also enjoyed a six-year run in London, where it received a Laurence Olivier award for comedy. Reza was surprised by the category for this award, noting, "I thought I had written a tragedy."  
STREAMING ON DEMAND:
Feb. 18 through March 7: every Thursday, Friday, Saturday and Sunday 

TICKETS:
$30 per household
Tickets available at www.InternationalCityTheatre.org.