The week of Nov. 18, the star-maker machinery was humming at full tilt for Julian Lennon. Monday he was in New York to do Katie Couric's talk show. Then out to L.A. for recording sessions and to get ready for an appearance on "The Tonight Show With Jay Leno" on Thursday. He was promoting "Everything Changes," a song collection that has been rolling out in fits and starts for the past two years.
The album was originally released in October 2011 in the UK and Ireland only. Last June, it was re-released with two additional songs, one of them the latest single, "Someday," featuring the vocals of Steven Tyler, who also co-wrote the song.
So why the publicity blitz now, five months later?
"Around the time of the June release, I was ready to start promoting the album," says Lennon. "But then I got a call from a friend who was making a film about [architect/designer] Eileen Gray. The question arose: Did I want to shoot some still photography during filming? It was an opportunity I couldn't pass up, and so I went back to Europe to do that."
The film, titled "The Price of Desire," is set for a 2014 release and chronicles the conflict between Gray and Le Corbusier, the French architect who went on to a level of renown Gray never attained.
"During the shoot, I became friendly with the actor Vincent Perez [who plays Corbusier], and he recommended me to shoot stills for his next film," says Lennon. "So I may be looking at the beginning of an entirely new career in the film world."
That Lennon would put his record promotion on the back burner while he went off to pursue other interests says as much about how he has come to terms with the music industry as it does about his wide-ranging artistic temperament. His last album release, in 1998, met with little commercial success, and he had become weary of the demands of the music business. For any future project, he knew things would have to be different.
In the intervening years, Lennon withdrew and lived quietly in the bucolic lake district of Northern Italy, having long ago abandoned the damp chill of his native England. It was an environment that gave him the creative space to pursue his artistic muses at leisure.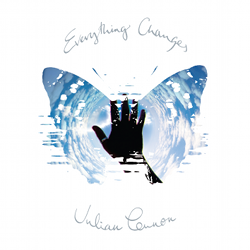 It was during this time that he became more immersed in photography, an interest he has had since childhood. His involvement has continued to deepen to the point where Lennon considers it now as creatively important as his music, if not more so. He has had a gallery show in New York and maintains a photography website (www.julianlennon–photography.com) that offers prints for sale. His portfolio includes a series of well-known actors and musicians, as well as shots of clouds and mountains taken from aircraft. He also makes artwork that combines photos and illustration, evidenced on the cover of his new album.
A financial settlement in 2009 from his late father John Lennon's wife, Yoko Ono, made it more feasible for Lennon to self-produce "Everything Changes." "With this record, I had no time constraints, no financial pressures, no studio-time costs and no manager pushing me," he says. "It was all on my back this time."
He took it slow, letting the songs evolve naturally, over time. "You'll usually see me performing on the guitar, but I composed most of these songs on piano," says Lennon.
Unlike his father, who usually had one co-writer, Lennon has several — in fact, every song on the new release was co-written. "Sometimes I'll get stuck, and a friend will suggest a word or a chord that puts the song back on track," he says. "Even if that's all they contribute, I'm happy to give them credit as co-writer."
Listening to the songs on "Everything Changes," there is no denying how influential The Beatles have been to his own musical vision — he has no qualms quoting directly from Beatles songs. You can easily pick out musical references from songs such as "Baby, You're a Rich Man," "Within You Without You" and "I Am the Walrus," to name a few. But there is also no denying that he has developed a sound and style distinctly his own and that the songs stand on their own merit.
While he seems to embrace the affinities he has with his famous father, struck down when Julian was 17, it also seems clear that it has been a lengthy and complex process for him to work out what it means to be Julian Lennon in his own right. It hasn't been an easy journey: the important people from his father's life that still remain — Yoko and Sean, Paul and Ringo — have proven to be less than fully familial. And while he has been engaged in the past, Lennon remains unmarried. Family to him really boils down to just his mom, Cynthia, John Lennon's first wife.
More recently, Lennon's sights have expanded far outside himself and his creative endeavors. In 2009, he founded the White Feather Foundation. The foundation partners with other organizations to raise funds for environmental and humanitarian projects, usually in poverty-stricken areas. The name came from a talk he once had with his father who told him that if he should ever pass away, the way that he would tell Julian that everything was going to be OK would come in the form of a white feather. That thought remained dormant until the day a few years back when he was visiting an aboriginal tribe in Australia. The tribal elder handed him a white feather as a spiritual token, prompting Lennon to create the foundation soon thereafter.
"Whatever my earnings, I want to put a portion of it aside for the things that concern me in the world," he says. "Next year, I'm going to Ethiopia to see about clean water there, and I'm taking my camera."
When asked if he intends to support his new album with a tour, Lennon demurs. "Without sponsorship, going on the road is very cost prohibitive. Plus, I just didn't want to do the touring treadmill, even though I enjoy performing live."
The solution came to him in a flash after attending a taping of "American Idol" to which Tyler had invited him. "I was sitting in the audience, and as the cameras scanned the audience, I waved," Lennon says. "Just hours later, when I checked my Facebook, hundreds of people had posted to say they had seen me. A light bulb went off, and I realized that TV or video was a great way to let fans know who I am, what I'm doing, and to put my side of things forward."
The result was an 80-minute documentary-style video, titled "Through the Picture Window," that includes acoustic performances of many of the album's songs. "With some of my friends' perspectives included, it turned out to provoke a lot of self-realization and was quite cathartic," he says.
Lennon sees all the threads of his life beginning to come together in a way he could never have imagined just a few years ago. "Next spring, I'm doing South by Southwest in Austin, and I want to use it as a platform for my creativity," he says. "We'll screen the video, have a gallery show for the photos and have an acoustic music session with Q&A. Later on, I'd like to do some charity concerts with a full orchestra, with the benefits going to the White Feather Foundation."
The notes of optimism and enthusiasm in discussing his upcoming plans seem to acknowledge that, for Julian Lennon, everything certainly has changed — and for the better.
—David Maurer, Culture Spot LA
Visit www.julianlennon.com and www.whitefeatherfoundation.com. "Everything Changes" is available on iTunes: https://itunes.apple.com/us/album/everything-changes/id650793128. Watch Julian Lennon perform on "The Tonight Show" at: http://bit.ly/17W1YIF.