L.A. Theatre Works' free programming
May 5, 2020 | By
Julie Riggott
| Category:
Entertainment and Events
,
Theater and Dance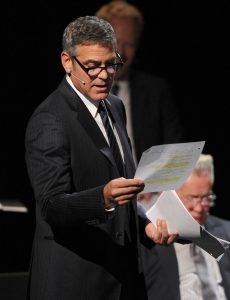 The world's leading producer of audio theater, L.A. Theatre Works offers audiences around the globe free access to state-of-the-art recordings of both contemporary and classic plays, each performed by leading actors of stage and screen. LATW productions are aired weekly by radio stations across the nation and internationally. Every Saturday, audiences can stream that week's broadcast online for free, along with broadcasts from previous weeks.

May 9: Six Degrees of Separation by John Guare, starring Alan Alda, Chuma Hunter-Gault and Swoosie Kurtz
May 16: Act One by James Lapine, from the autobiography by Moss Hart, starring Jane Kaczmarek, Mark Jude Sullivan and Jon Tenney
May 23: Table Manners by Alan Ayckbourn, starring Rosalind Ayres, Martin Jarvis and Jane Leeves
May 30: The Goodbye Girl by Neil Simon,starring Matthew Floyd Miller and Amy Pietz
To stream current and recently broadcast plays from the L.A. Theatre Works weekly radio series, go to https://latw.org/broadcasts#recent.
Listeners can hear additional titles by subscribing, also free, to L.A. Theatre Works podcasts on Apple Podcasts, Stitcher, Spotify and NPR One. Some of the titles available in May include Mizlansky/Zilinsky, a hilarious comedy by Jon Robin Baitz about two Hollywood con men trying to hatch one last grand scheme, starring Nathan Lane, Richard Masur, Rob Morrow and Harry Shearer; and Fabulation, or the Re-Education of Undine, a darkly comic rags-to-riches-to-rags tale by Pulitzer Prize winner Lynn Nottage that stars Charlayne Woodard. Subscribe at https://latw.org/podcasts.

Free access is always available to over 30 science-themed plays from the company's "Relativity Series." Titles include award-winning plays such as Arcadia by Tom Stoppard, starring Kate Burton and Gergory Itzin; and Photograph 51 by Anna Ziegler starring Miriam Margolyes, Matthew Arkin and Maxwell Caulfield. To stream plays from the Relativity Series, go to https://latw.org/relativity-series. The Relativity Series is also available as a podcast at https://latw.org/podcasts.

In addition to all the free offerings, LATW has a catalog of over 500 recorded plays available for purchase. Newly released and now on sale: The Hard Problem, a hilariously mind-bending comedy by multi-Tony® award-winner Tom Stoppard that explores the origins of human consciousness: starring Games of Thrones' Hannah Murray, with Eddie Cahill, Rosie Fellner, Desirée Mee Jung, Julian Morris, Moira Quirk and Alex Wyndham. For more information, go to https://latw.org/title/hard-problem.