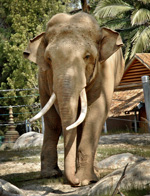 Did you know that the Los Angeles Zoo is an international leader in the conservation of endangered species? That's reason enough for animal lovers to join the Safari Club. But exclusive events, like the upcoming Sunset Safari, which are only open to Safari Club members provide another incentive.
The Sunset Safari on Saturday, April 16, from 6 to 8 p.m. will feature a tour of the Elephants of Asia habitat, an elephant training demonstration, animal viewings and keeper talks. There will also be a buffet dinner and live music to help you "express you inner animal."
Membership in the Safari Club starts at $1,500, a tax deductible gift that supports the zoo and contributes to conservation and breeding programs, which offer hope of recovery for endangered species.
For information, contact Nancy Simerly at (323) 644-4717 or nsimerly@lazoo.org.