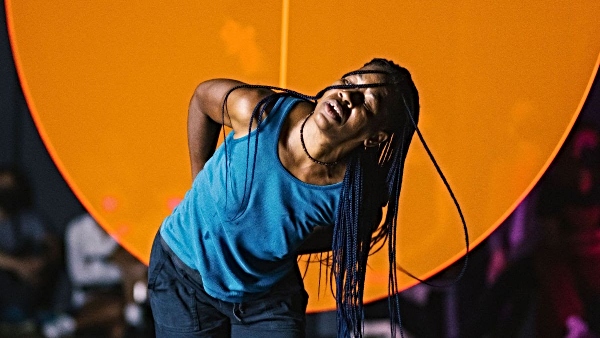 MacArthur Genius and Bessie Award-winning Okwui Okpokwasili brings her latest multidisciplinary adventure, "adaku, part 1: the road opens" to the REDCAT stage this Thursday through Saturday, May 25-27, at 8:30 p.m. 
Together with her ever-present lighting and directing collaborator and husband, Peter Born, the Bronx-raised, Brooklyn-based artist presents a chapter of what is described in promotional materials as a "speculative mythology, a precolonial African village at the cusp of a major upheaval."
Exploring "the fraught relationship between ancestors, future generations, and the role of ritual," the creator has been labeled as a "riveting presence in her own unclassifiable creations" by the venerable Dance Magazine, "leaving an audience vibrating, moved by images and incantations that linger long after a performance has ended." This intermission-less 75-minute work for seven performers (including Okpokwasili) is said to mix textures, shadows and rhythmic humming into a close-up and personal interaction between those onstage and the audience.
Yale graduate Okpokwasili's numerous awards include the French American Cultural Exchange (2006-2007); Maggie Allesee National Center for Choreography Choreographic Fellowship (2012); New York Foundation for the Arts' Fellowship in Choreography (2013); Foundation for Contemporary Arts' artist grant in dance (2014); and Mellon Creative Futures Fellowship at Carolina Performing Arts. She was the 2015-2017 Randjelovic/Stryker New York Live Arts Resident Commissioned Artist (RCA), a 2018 Princeton University Hodder Fellow, a 2018 Herb Alpert Awardee in Dance, an Antonyo Awardee, and a 2018 Doris Duke Artist Awardee. She was the inaugural artist for the Kravis Studio Residency program at MOMA in 2022.
—Benn Widdey, Culture Spot LA
Location:
REDCAT, 631 W. Second St., LA 90012
Tickets:
$13-$25 https://ci.ovationtix.com/34348/production/1146223
Info:
https://www.redcat.org/events/2023/okwui-okpokwasili
Photo courtesy of the artist