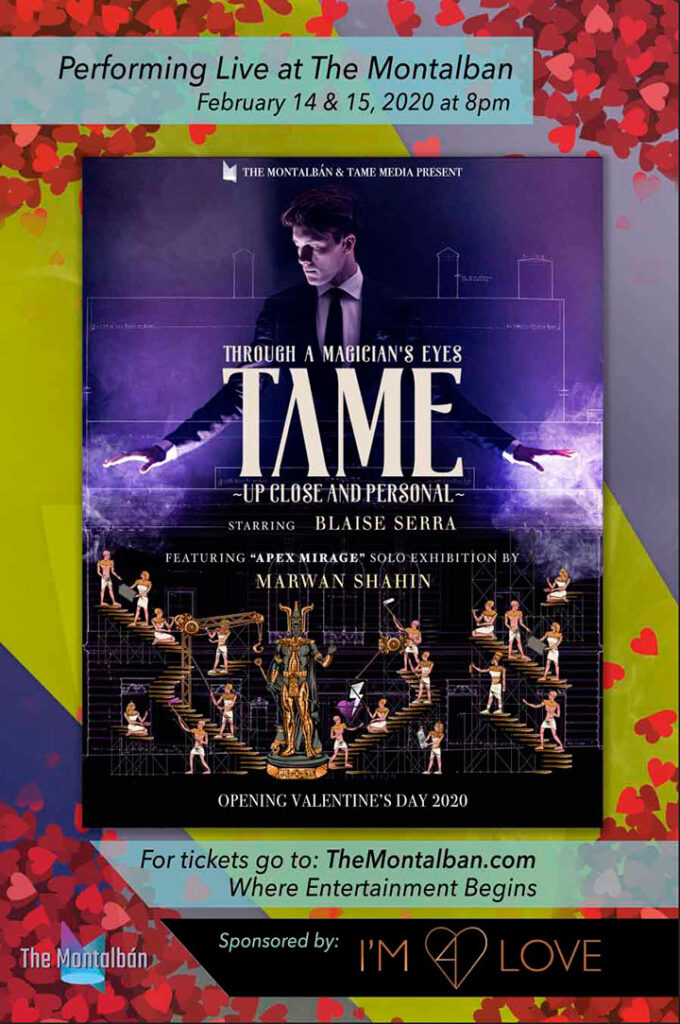 It's always best to arrive at a magic show by setting aside that part of your brain that always wants to figure out "how it's done" and focus instead on the thrill of being delightfully amazed. After all, magic reminds us of the dazzling wonderment of childhood and can be a pleasant mental vacation from the pressures of life in 2020.
Young magician and mentalist Blaise Serra delivered the jaw-dropping goods with a master's touch at his recent two-night stint Through a Magician's Eyes (TAME): Up Close and Personal at the Montalbán in Hollywood.
Part of the fun of the show was being led backstage at the 1920s theater where audience members were seated on the stage itself looking at the backside of the red curtain. Serra had set up a few tables of props, a series of Rubik's cubes, a dinner place setting and, in the corner, two guitars — items that piqued everyone's curiosity with whispered, "What do you think is going to happen here?"

The show kicked off with Serra arriving out of the darkness playing a rocking electric guitar rift. Sporting a Conan O'Brien-style hairstyle, his show opened with a card illusion that involved the entire audience — the gasps of disbelief at the conclusion set up expectations for a night of clever and fast-moving magic and thoughtful entertainment.
Throughout the course of the one-hour show, Serra revealed a bit of his charming personality and backstory through the platform of illusions. Growing up in Connecticut, he loved music as much as he did magic; an illness kept him practically homeschooled during high school where he honed his sleight-of-hand craft and prowess at solving Rubik's cubes.
Serra's friendly and engaging banter made it easy for audience members to raise their hands to volunteer. Most of Serra's illusions involved manipulating a deck of cards, and many audience members left the makeshift stage shaking their heads with giddy confusion wondering what on Earth did they just see?
To see such a talent as young as Serra — he only arrived in Los Angeles a few years ago — ensures the magic community that, yes indeed, rookies are well-schooled to take over the mantel when the time comes. In addition to his dates at the Montalbán, Serra has performed at the Magic Castle and numerous other venues all over the United States. During his show, he discusses the universal language of magic which, like music, can entertain people from any background.
Likewise, at the end of Serra's show he joined audience members for a gallery opening of APEX MIRAGE, a new solo exhibition by Marwan Shahin, a renowned Egyptian artist based now in Los Angeles. Taking over a former mezzanine space, the gallery showcases the work of this also-young talent whose stunning visuals blend dark humor with stylized graphics that are social and political commentary.
—Brenda Rees, Culture Spot LA
For more information about events at the Montalbán, visit https://www.themontalban.com.
Brenda Rees is a freelance writer based in Eagle Rock who has written for The Los Angeles Times, Westways and other regional publications.