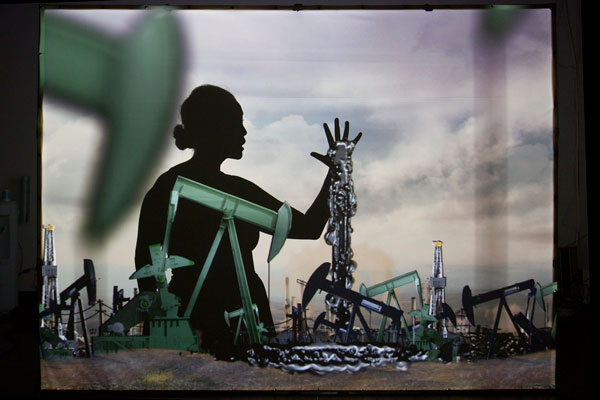 Exploring the space between live theater, animation and multiple layers of two-dimensional imagery, innovative interdisciplinary artist Miwa Matreyek presents the Los Angeles premiere of her newest creation, "Infinitely Yours," at REDCAT for only three shows, this Thursday through Saturday, Jan. 16-18, at 8:30 p.m.
These aren't cartoons. The imagery is heightened by an original score recorded and performed on stage by composer Morgan Sorne (SORNE). His five-octave vocal range deepens Matreyek's travels into what the tagline of the 25-minute piece labels as "A Dream-like Meditation on Climate Catastrophe." Further expressed as a "nightmarish vision of climate grief," this new concoction emotionally illustrates the disastrous impact humans have had on the earth. The performer appears as a shadow traveling through small- and large-scale environments, interacting with fish trapped in a trawling net, with a person drowning in a plastic-filled ocean and with other headline-inspired scenarios.
Also in this 80-minute program, the artist presents other work from her multifaceted portfolio: "Dreaming of Lucid Living" (2007), "Myth and Infrastructure" (2010) and the short film "Lumerence" (2012).
At times Matreyek's work is seen as surreal, other times as metaphoric and yet other times interpreted as poetic. Matreyek showed an early version of this work at REDCAT's NOW Festival last summer, and she has been presented in festivals and productions both as a solo artist and as a collaborator in venues across the globe. "Infinitely Yours" will make its Sundance premiere next week at the Sundance Film Festival's New Frontier program in Park City, Utah, and will tour North America thereafter through June.
—Benn Widdey, Culture Spot LA
LOCATION: REDCAT, 631 W. Second St., LA 90012
TICKETS: $11-$22 https://web.ovationtix.com/trs/pr/1023320
INFO: https://www.redcat.org/event/miwa-matreyek-infinitely-yours