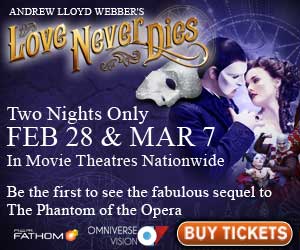 Andrew Lloyd Webber's "Love Never Dies," his sequel to his widely popular "The Phantom of the Opera," has been successfully transferred to the silver screen for viewing by those not able to fly to Melbourne, Australia, to experience this most entertaining musical.
This 165-minute film begins with interviews with Lloyd Webber and various members of his incredibly talented cast and crew.  As Lloyd Webber explains, the camera brings the audience much closer to the actors than a small theater could ever accomplish. Seeing the finished results of his musical's recording while housed in Melbourne's Regent Theatre last year made Lloyd Webber wish he could have videoed all his previous productions for posterity.
The gorgeous, elaborate sets evoking Coney Island's funhouse horror and roller coaster thrills, complemented by the colorful 1907 period costumes, spring from the brilliantly creative mind of designer Gabriela Tylesova. The most memorable eye-poppers include the deco hotel room where Christine initially reunites with the Phantom and the stage backdrop of peacock feathers for her New York solo debut.  Director Simon Philips (of the stage production) keeps the pacing fast and furious, slowing down most effectively for the love duets between the angelic-voiced Anna O'Byrne as Christine Daaé and the soaring vocals of Ben Lewis' Phantom, as well as for the tender moments between Daaé and her 10-year-old son Gustave, sung most winningly by the young Jack Lyall. Director Brett Sullivan (of the film) keeps the camera close and intimate on his performers, allowing the audience to fully witness the subtle facial expressions of the attractive (and the masked) performers.
Simon Gleeson revels in achieving the audience's tsk-tsk-ing disapproval as Raoul, Christine's husband in this tragic love triangle.  His ultimate face-off duet with Lewis' Phantom impresses brutally.
Two other standouts in this cast are Maria Mercedes as Madame Giry, the director of the Phantom's Coney Island burlesque show (Her final note of her first solo kills!), and Sharon Millerchip as her daughter and lead burlesque performer Meg (a very fun and risqué "Bathing Beauties" number for that time!).
For those theater-goers who find seating nearer than row 10, be ready to be frustrated. The ensemble dance numbers and the overall set will not be totally viewable or fully appreciated as the camera too infrequently pulls back to reveal anything other than a tight two shot.
—Gil Kaan, Culture Spot LA
For more information, visit http://www.fathomevents.com/performingarts/event/loveneverdies.aspx. Check your local movie theater listings for the encore screening on Wednesday, March 7, at 7:30 p.m. Or win free tickets at Culture Spot.