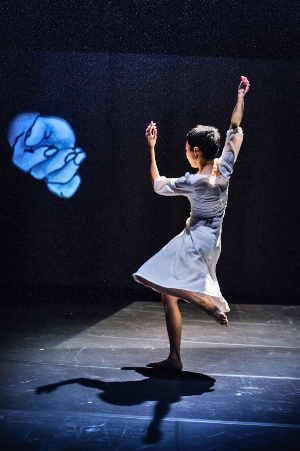 Without skipping a beat in its showcasing multimedia productions mixed with dance, REDCAT hosts the U.S. premiere of "Fruits borne out of rust" this Thursday through Saturday, Feb. 20-22, at 8:30 p.m. and Sunday, Feb. 23, at 3 p.m.
Collaboratively created and performed by internationally known Japanese visual artist Tabaimo and award-winning choreographer/dancer Maki Morishita, the work layers drawings, video, movement and live music to create its fantastic world. The piece explores stability and instability, the unsettling forces underneath daily life and the hope that something good can happen after not-so-good. According to promotional materials, the translation of the work's Japanese language title is: "there is the potential for progress even though the body may feel rusty from neglect."
At one point, the stage is transformed into a wood-floor apartment, at another, it is a birdcage with both human and dove inside, and yet a third time, it is a line of tatami mats swallowing the performer. Intricate movement choices extend the animations and propel the mover's torso and limbs beyond what we might expect.
Both the artist and the dancer are celebrated in their home country for their respective arts. Both have independently been presented globally to high acclaim.
—Benn Widdey, Culture Spot LA
LOCATION: REDCAT, 631 W. Second St., LA 90012
TICKETS: $11-$22
https://m.ovationtix.com/pr/1023323
INFO: https://www.redcat.org/event/tabaimo-maki-morishita-fruits-borne-out-rust