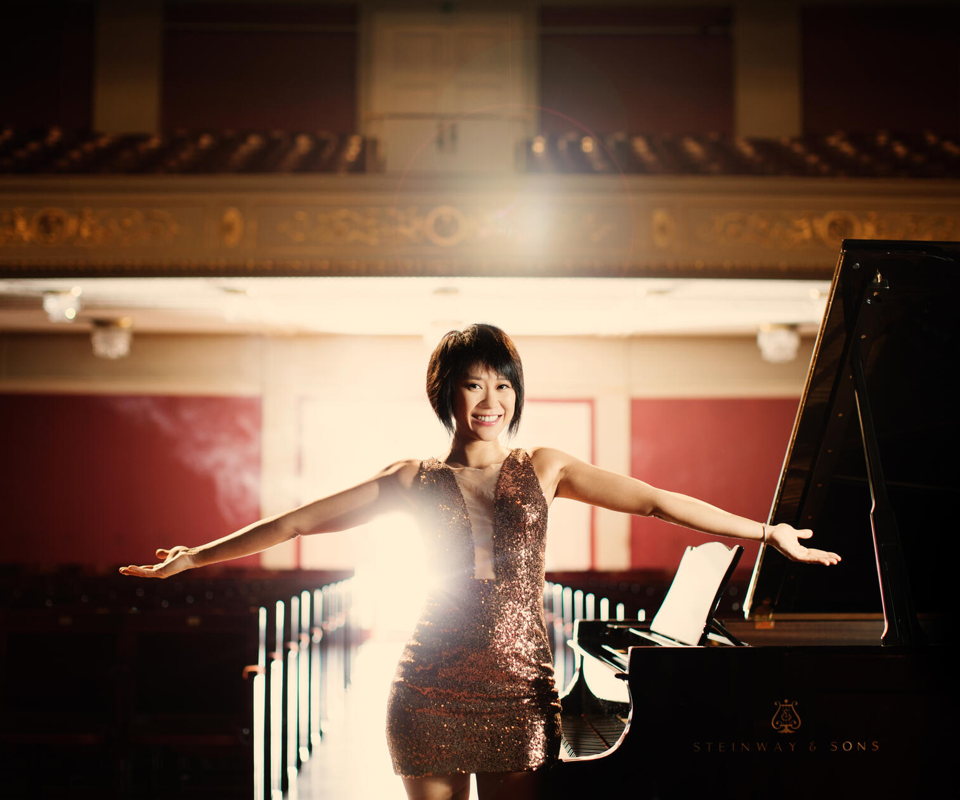 Yuja Wang loves to play the piano. Why do I say that? Because on April 6 at Walt Disney Concert Hall, she performed a marathon recital of eight challenging works followed by no less than six encores — a few more than in her last recital (see http://culturespotla.com/review-yuja-wang-in-recital-at-walt-disney-concert-hall/)!
This was an unusual recital and at the same time a very Yuja-like one in that she did not publicize the program prior to the concert. On the night of the concert, audience members hoping to find the list of pieces were surprised to discover that they were not listed in the program book. Instead, all that was stated in the book was: "Recital program and intermission to be announced from the stage." However, Wang did not announce anything from the stage.
She walked onstage to gasps by the almost sold-out crowd because she was dressed very provocatively in what can only be described as a fancy workout or yoga outfit with an outer one-piece leotard fitted like a thong over leggings. What the audience did not know at the time is that she was indeed planning a workout at the piano.
She lulled the audience into expecting a fairly traditional program by starting with the Beethoven Piano Sonata No. 18, Op, 31, No. 3, sometimes called (but not by Beethoven) "The Hunt." Oddly, the audience clapped after each movement, which seemed to suggest that they weren't familiar with this fairly popular sonata. It could have also been that after each movement, Wang put her hands in her lap, a practice she avoided thereafter. Wang beautifully balanced the more lyrical first and third movements with the more vigorous second and fourth movements.
The Beethoven, however, was just a warm-up for Wang because after one of her characteristic quick bows, she threw a wrench into any expectations the audience might have had about a traditional program by launching into the six-movement Schoenberg Suite for Piano, Op. 25. Although Schoenberg modeled the Suite after a baroque suite from, say Bach, with movements such as Gavotte, Musette and Gigue, it was one of Schoenberg's earliest 12 tone works. And if anyone thought that Wang was going to return to a more traditional melodic work after that, it was quickly dashed when she followed the Schoenberg with two etudes by György
Ligeti: the Étude No. 6: "Automne à Varsovie" (Autumn in Warsaw) and the Étude No. 13: "L'escalier du diable" (The Devil's Staircase), composed between 1985 and 1994.
The Schoenberg and Ligeti required Wang to cover the entire keyboard and to frequently move from one side of the piano bench to the other — movements for which she was dressed! Both works require a command of the keyboard, but Wang also brought out the musicality of these dissonant pieces.
Wang returned to the stage for the second half of the recital having undergone in typical fashion (no pun intended) a wardrobe change, which, again, elicited gasps from some audience members. She was now wearing a long, flowing sequined gown.
She began the second half with the Piano Sonata No. 3 in F-sharp minor, Op. 23 by Scriabin. The first movement is aptly titled Drammàtico, and F# minor is a good key for dramatic writing. Interestingly, the fourth movement is marked Presto con Fuoco, the same as the Beethoven sonata. Wang brought out all the melodic lines in this sonata with its lush chordal structure and delivered a passionate performance.
She then offered a brief respite from the more contemporary with a rendition of the Iberia Book III No. 3: "Lavapiés" by Isaac Albéniz played with her own flair.
Wang finished the second half with two preludes by the Ukrainian composer Nikolai Kapustin, who died in 2020: the Prelude Op. 53, No. 11 and the Prelude Op. 53, No. 10, both from his 24 Preludes in Jazz Style. Kapustin was a classically trained pianist and composer who discovered jazz in 1954 and became a jazz pianist, arranger and composer. His 24 Preludes in Jazz Style reflects his fusing of both jazz and classical forms. These are lively and upbeat pieces, and it is probably no coincidence given world affairs that Wang chose them to conclude the program.
Wang obviously enjoys not only playing the piano but also playing it for an appreciative audience. She showed her appreciation—and love of playing—by performing six encores, including Songs Without Words, Op. 67, No. 2 by Mendelssohn; the Dance of the Four Swans (arr. for piano by Earl Wild) from Tchaikovsky's Swan Lake, Op. 20, TH. 12 – XIII.IV; the Étude No. 6 by Philip Glass; "You Come Here Often?" by Michael Tilson Thomas; the Danzon No. 2 by Arturo Marquez; and finally, the Toccatina from Kapustin's Eight Concert Studies for Piano, Op. 40.
A Yuja Wang recital is a reflection of how she feels at the moment. On Wednesday night, one got the feeling that although she had an idea of what she wanted to play, the specific works were a game-time decision. One also could not help but think that world events influenced her mood and choice of music. Several of the composers were from countries related to the current crisis in Ukraine.
Yuja Wang is a rock star of the classical world. She combines glamorous and sometimes shocking outfits with a monstrous sound at the piano. Even though she can play subtly and tenderly with the best of them, she can also produce a thundering sound as she did on Wednesday night. There are times when one expects her to pick up the piano and throw it down à la Pete Townsend. She generates an excitement in the audience that few other classical performers do. For example, after she played the Schoenberg in the first half, someone yelled out "Did you write that?" Someone else whistled. The audience laughed at different times.
Despite all the extra musical aspects of the recital, it was the music that prevailed because of Wang's ability to navigate a vast musical landscape with the utmost musicality.
—Henry Schlinger, Culture Spot LA
Photo courtesy of LA Phil