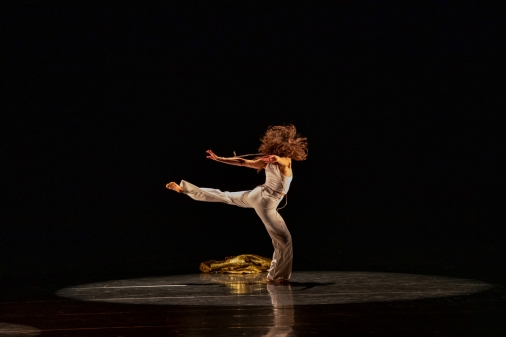 The 18th annual New Original Works Festival continues into its second of three weekends with a triumvirate of world premieres. This Thursday through Saturday, October 14-16, at 8:30 p.m., the program includes creations by theatrical/cinematic/multimedia artists Eloquent Peasants; composer/songwriter and sound experimentalist Joshua Hill; and choreographer/dancer Rosanna Tavarez with LA DANSA DANSA.
"Kubrick's Aryan Papers or How I learned that I'm in pain 24 hours a day" is playwrights Hunter Abal and David Blindauer's gateway into the iconic filmmaker Stanley Kubrick's never finished Holocaust movie. Grounded in a fictionalized subconscious involving memories of friends and family, the production layers text, film and media into this notorious fantasy.
Using live and pre-recorded sound investigations, Joshua Hill explores his and his family's experience when his father, singer Greg Hill, was diagnosed with dementia. Intimate yet universal, "Song Cycle" reveals how music can express what we can't when our normal functions are interrupted.
In the contemporary dance duet, "Piece X Piece," choreographer/performer Rosanna Tavarez weaves together scholar Margaret Chin's treatise, Sewing Women: Immigration and The New York City Garment Industry, the Triangle Shirtwaist Factory fire of 1911, telenovelas and her mother's personal history of immigrating to the United States in order to reveal the physical and mental challenges of making this cross-cultural journey.
NOW's first week was filled with both rigor and surprise, so one can expect another compelling event. As before, the three in-person performances are extended with a simultaneous virtual screening of Saturday's production.
—Benn Widdey, Culture Spot LA
LOCATION: REDCAT, 631 W. Second St., LA 90012
TICKETS: $10-$20 https://web.ovationtix.com/trs/pr/1076217
INFO: https://www.redcat.org/event/now-2021-week-two
Photo credit: Rosanna Tavarez's "Piece X Piece" / Photo: Cheryl Man