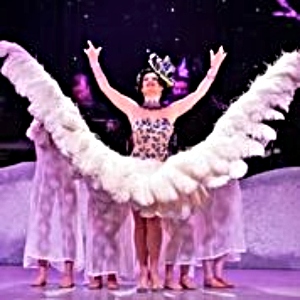 The 48th annual Dance on Camera Festival is coming to Los Angeles … virtually. A New York tradition, matched sublimely by LA's own Dance Camera West Festival, is sending its choices of the best in dances made for the usually big, but this year, small screen. Starting this Friday, July 17, and running through Monday, July 20, this curated collection of short and feature films includes contributions from Ireland, Argentina, Kazakhstan and many places in between.
This Lincoln Center-based screening event takes place only online, at the festival website. Curatorial Advisor and Executive Producer Michael Trusnovec noted, "Everyone around the world has faced monumental challenges this year. One of the most thrilling and powerful aspects of art is not only the ability to escape — something that is vital right now — but also to see a dance that is so profound that it challenges your thinking, ignites a passion or shakes you to your core."
Given that this parade of visual/visceral/aural art originates on the East Coast, Angelenos are to be reminded of the time difference. As we are three hours "behind" the East Coast, what's listed as a 6:30 p.m. start time is, for us, 3:30 p.m. Noon starts mean 9 a.m. Once tickets are purchased, viewers have a 72-hour window from the program's NY screening time within which to watch the film(s).
Note that the Monday productions, besides being free programs, start at 1 p.m. locally, and include a special re-screening of a film created by Angeleno David Rousseve (UCLA World Arts and Culture/Dance professor). LA artist and #mydancefilm curatorial panelist Jacob Jonas will screen his film, PARKED, at the end of that lineup.
Honoring our COVID19 mandates, this might help us feel a little less homebound. Fingers crossed we get this virus under control and our lives back to something normal soon.
—Benn Widdey, Culture Spot LA
LOCATION: https://www.danceoncamerafestival.org/
TICKETS:       $5-$48
https://www.danceoncamerafestival.org/programandtickets
INFO:             
https://www.danceoncamerafestival.org/