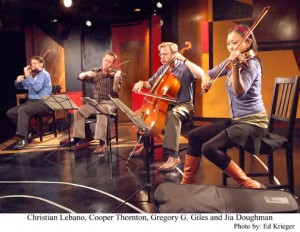 We expect rock bands and rocky relationships to go hand in hand, having heard plenty of stories about drama and personality conflicts, break ups and reunions, over the decades. Even the best have not been immune — just look at The Beatles.
Since musicians are human and, as artists, maybe even more temperamental than most, it shouldn't surprise us then to see a story about classical musicians going through that same kind of turmoil. Playwright Michael Hollinger ventured into that ripe territory with his award-winning "Opus," which had its LA premiere at The Fountain Theatre in June and has been extended twice. The must-see production, directed by Simon Levy, continues through Sept. 26.
"Opus" is a fascinating glimpse into the fictitious Lazara String Quartet. At the outset, Elliot (Christian Lebano), Alan (Cooper Thornton) and Carl (Gregory G. Giles) audition Grace (Jia Doughman) to replace violist Dorian (Daniel Blinkoff) in time for a concert at the White House.
Dorian, who was unceremoniously fired and disappears, is a musical genius, who is also unstable and claimed to talk with dead composers. Plus, his romantic involvement with violinist Elliot did not make things any easier. The repercussions of that entanglement and Elliot's take-charge attitude are also not necessarily healthy for the continuing quartet.
Violinist Alan is the most level-headed of the group, and adds a fair share of comic relief. Carl, who has been in remission from cancer, is a focused cellist who prefers a no-nonsense approach to rehearsals. The young Grace, fresh out of graduate school, holds her own with the men while feeling compelled to audition for the principal violist position of the Pittsburgh Symphony Orchestra — despite comments from the quartet about the quality of life (and suicide rate) of unfulfilled orchestra members.
The characters are richly drawn, the dialogue true to life and the story compelling. The actors, all with exceptional credits in theater (and some having made recognizable TV appearances), make wonderful music together. They also do a convincing job of pantomiming on their instruments — not an easy task — thanks to music advisors Larry Sonderling, a violinist with the Los Angeles Philharmonic since 1976, and Roy Tanabe, a violinist who retired after 41 years with the LA Phil. The music is courtesy of the Vertigo String Quartet, recorded by Jorge Cousineau for the Arden Theatre Company in Philadelphia, where the play saw its world premiere in 2006. At that time, by the way, the real-life Audubon Quartet suffered a high-profile split, complete with threatened lawsuits, proving just how true Hollinger's premise is.
A violist trained at the Oberlin Conservatory of Music, Hollinger knows his classical music, and includes details like Dorian's yearning to play the violin rather than viola, much to his lover's exasperation. The musical context and the group's struggles with Beethoven's Opus 131 make the play new and interesting. But it is also more than a play about classical music. Director Levy, a former music major who played trumpet and sax and considered graduate studies in conducting before turning to theater, commented in press materials that "Opus" is "true to the world of classical music, but also very human."
Hollinger portrays human relationships with an accuracy and sensitivity that give it a universal appeal. That's what makes "Opus" compelling and assures its longevity.
Of course, the Lazara Quartet's future is less certain.
"Opus" runs through Sept. 26 at The Fountain Theatre, 5060 Fountain Ave., (323) 663-1525 or www.FountainTheatre.com. On Sunday, Sept. 12, at 4:30 p.m., The Fountain Theatre presents LA-based string quartet Quartetto Fantastico (Chris Woods and Paul Cartwright, violin; Miguel Atwood-Ferguson, viola; Peter Jacobson, cello) for a live chamber music concert following the matinee performance of "Opus" (separate admission; discount available with "Opus" ticket stub).