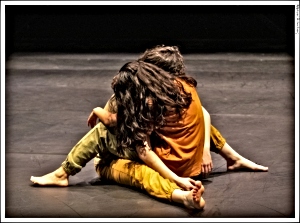 Keeping the lights on for REDCAT's 18th Annual New Original Works Festival, the theater invites audiences to witness original creative work in contemporary dance, music, multimedia and combinations thereof for the next three weekends (Oct. 7-23, 2021).
In this week's program, Thursday, Oct. 7, through Saturday, Oct. 9, at 8:30 p.m., a trio of innovators share the evening. Melissa Cisneros (with dancer Eric Geiger and designer Harry Foster) will present "Togetherness," a post-pandemic (?) choreographic exploration of concepts like proximity and distance, sound and silence, what is clear and what is cloudy.
Trans-nonbinary artist, filmmaker, performer and writer Pau S. Pecador toys with animated found objects, props and a slide show of imagery to reveal personal family history in "Sex Lives of Dates."
And in "The ocean is six miles deep," dance maker Marissa Brown and the Lone King Projects group draw upon a highly physical movement vocabulary to expand interpretations of beauty, desire and free expression.
Through this ongoing REDCAT annual event, each of the selected artists has received rehearsal space, technical support and an honorarium to help develop these live performance ideas. Promotional materials describe the festival as a laboratory of investigation and point out that work that premieres in its umbrella often travels globally in its evolution. This year's in-person production is also augmented by a livestreamed viewing option on each Saturday night.
—Benn Widdey, Culture Spot LA
Location: REDCAT, 631 W. Second St., LA 90012
Tickets: $10-$40 (season pass) https://web.ovationtix.com/trs/pr/1076217
Info: https://www.redcat.org/event/now-2021-week-one
Photo credit: Melissa Cisneros: "Togetherness" / Photo by Manuel Rotenberg