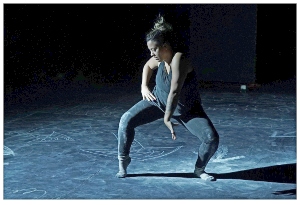 Bringing live dance back to its pandemically silenced stage, the Roy and Edna Disney/CalArts Theater welcomes Rosanna Gamson/World Wide to premiere its hour-long dance theater work, "Sugar Houses." Running in-person Thursday-Saturday, July 8-10, at 8:30 p.m., and Saturday, July 10, at 3 p.m., the itinerary also includes a virtual-only performance on Sunday, July 11, at 4 p.m.
Originally scheduled for production in March 2020, this new creation is performed by six singer/dancer/actors to a score composed in performance by sonic artist Simon Greenberg. Singing witches' spells in English, Yiddish and imaginary languages (penned by horror writer Brian Evenson and arranged by Fahad Siadat and Tomasz Krzyżanowski), director/choreographer Gamson deconstructs the globally-shared Brothers Grimm fable of "Hansel and Gretel."
In this treatment, elements of the historical underpinnings of the tale are revealed: the Great Famine of 1315-1317, the brutal behaviors, coded antisemitism, guilt, innocence and blame of the day; scarcity and gluttony; abandonment, servitude and incarceration. With a movement vocabulary described in promotional materials as "ferocious and virtuosic," the performers transform the space as they create and destroy the world of the piece with chalk drawings and erasures.
Based in LA and with an international profile, Rosanna Gamson/World Wide has been presented at REDCAT in both full evening and shared artist productions for almost two decades. "Sugar Houses" is one of only 20 nationally selected shows supported by the prestigious New England Foundation for the Arts' National Dance Project grant. Following these shows, the company will present the work in San Diego and Nashville, Tennessee.
Seating is at only 25% of its normal capacity. The theater asks viewers to wear masks while watching the show, socially distanced from their neighbor.
—Benn Widdey, Culture Spot LA
Location: REDCAT, 631 West Second St., LA 90012
Tickets: $13-$25 can be purchased at
https://www.redcat.org/event/rosanna-gamsonworld-wide-sugar-houses
For the virtual performance, $8-$15 at https://web.ovationtix.com/trs/pr/1062336
Info: https://www.redcat.org/event/rosanna-gamsonworld-wide-sugar-houses
https://rosannagamsonworldwide.squarespace.com/projects/sugarhouses