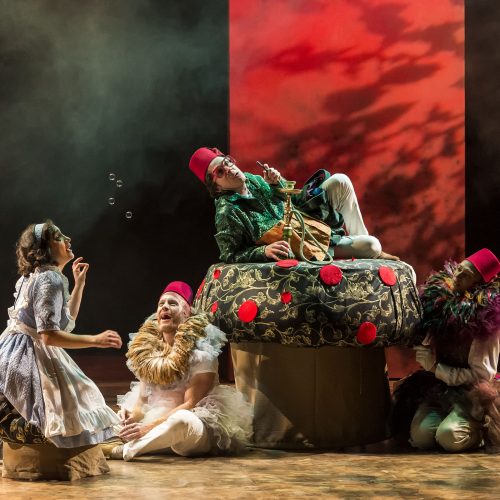 There are so many things to love about A Noise Within's "Alice in Wonderland." It's the perfect escape. Croquet with upside-down flamingos, "birds" clowning around in a dry history class, Tweedle Dee and Tweedle Dum.
California's classic repertory theater company uses Eva Le Gallienne and Florida Friebus' play which was adapted from Lewis Carroll's "Alice in Wonderland" and "Through the Looking-Glass." The playwrights used Carroll's words and poetry, puns and riddles. We get "Jabberwocky" and "The Walrus and the Carpenter," among other famous bits. Kids won't get all of this; neither will adults! But it's all great fun.
Erika Soto is a convincingly innocent, fun and bubbly, and pretty perfect Alice. And all the other actors, who play multiple roles, do an outstanding job, with the twins and the Queen of Hearts (in a gender-bending role) perhaps getting the most applause for their hilarious turns. Costumes take inspiration from John Tenniel's illustrations, and lighting and music and sound design all add to the nice atmosphere. So, go and enjoy Carroll's crazy poetry and favorite characters like the Cheshire Cat and the Mad Hatter.
My only wish was that it all wasn't so sedate. Instead of feeling absolutely mad and curiouser, the visuals were not surreal enough to match Carroll's imagination. But that's perhaps bone picking with a very lovely tribute to Alice.
I loved the final scene: Alice crawls back through the looking glass and snuggles up in a chair hugging her Lewis Carroll book.
—Julie Riggott, Culture Spot LA
Shows continue through April 18 at A Noise Within, 3352 E. Foothill Blvd., Pasadena CA 91107. Visit https://www.anoisewithin.org.