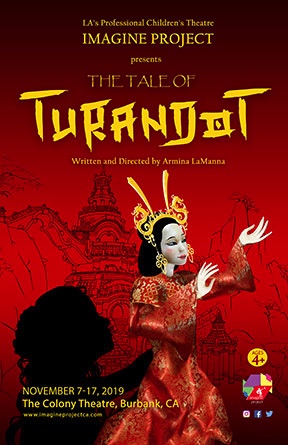 The test of a good kid's play is whether kids like it. Of course. But the test of a great kid's play is whether the adults that take them to see it like it too. On both of those tests, Imagine Project's world-premiere 'The Tale of Turandot' deserves an A-plus.
The company's inaugural production was a fun and clever play with puppets, actors, original music, video projections and more. It ran Nov. 7 through 17 at the Colony Theatre in Burbank. Armina LaManna wrote and directed what the company billed as a commedia dell'arte experience. My 9-year-old companion loved the improvisational feel, where the actors talked to the kids, asked them to vote on a plot change and even handed out balls to throw at a bad guy at one point.
The title character, familiar to those who have seen the Puccini opera, follows a bookish princess with big ideas, like building observatories so she can continue her work mapping the stars. Just because she's smart, however, does not mean she has control of her own destiny. As the kids learn, she was a young woman in a time and place when women were expected to be "silent and pretty" (in the words of Prince Andre) and to get married — little else. Princess Turandot devises a contest wherein the prince who can solve her three riddles will win her hand. She hopes no one will win. But Prince Calaf does. Fortunately, he also understands Princess Turandot's predicament.
The production was very artistically imagined, from the projections to the astronomical clock painting on the floor and the beautiful puppets. The acting was outstanding, and my personal favorites were the bad guys, Prince Andre and the Sultan, because they were the most hilarious. There was great camp and slapstick throughout.
My 9-year-old summed up the experience quite nicely when he said, "I loved it. Can we come back tomorrow?"
—Julie Riggott, Culture Spot LA
For more about Imagine Project, visit http://imagineprojectca.com.