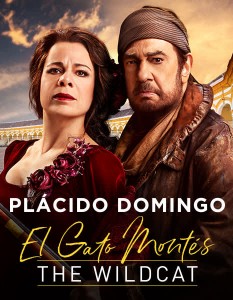 LA Opera's 1994 production of Manuel Penella's "El Gato Montés" starred Plácido Domingo as the bullfighter. In the 2019 production, he's the titular Wildcat, taking on the darker character in the love triangle. Who would have guessed 25 years had passed when Domingo walked out on stage this month? In the spotlight against a pitch-black background, he could have been mistaken for that much younger man who starred in the U.S. premiere of the work sung in Spanish (it was produced in English in 1921 at New York's Park Theater).
Domingo was indeed a wildcat, strutting the stage — commanding it — and singing with a ferocious energy that could not be denied. Domingo makes any production a must-see, and, really, you must see this one. There are still two performances left.
Domingo and his co-stars, especially beloved LA Opera regular Ana María Martinez as Soleá, Plácido Domingo Award winner Arturo Chacón-Cruz as "El Macareno" and newcomer Ruben Amoretti as Padre Anton, are far and away the standouts of this production from Teatro de la Zarzuela in Madrid. While the music and flamenco dancers are lively, other aspects like costumes and scenery pale in comparison.
Penella's work, which premiered in 1916, is part opera and part zarzuela, Spanish musical theater. As such, it holds a special place in Domingo's heart. He grew up with his parents' zarzuela company in Spain.
The Banda that plays along with the LA Opera Orchestra brings a distinctly Spanish flavor to the music with winds and brass including a flugelhorn and baritone horn.
While you might never have heard of Penella, you might recognize the pasodoble. As musicologist and critic John Henken points out in the program, "Although virtually unknown himself, Manuel Penella is the composer of music heard around the world."
Since we have so many Spanish speakers in LA, hopefully this production drew newcomers to the Dorothy Chandler Pavilion. LA Opera also hosted a conversation with cast members in Spanish after the May 8 performance.
Let's hope it won't be another 25 years before we get the chance to see "El Gato Montés" in LA again.
—Julie Riggott, Culture Spot LA
Shows continue May 16 and 19. For information and tickets, visit www.laopera.org.