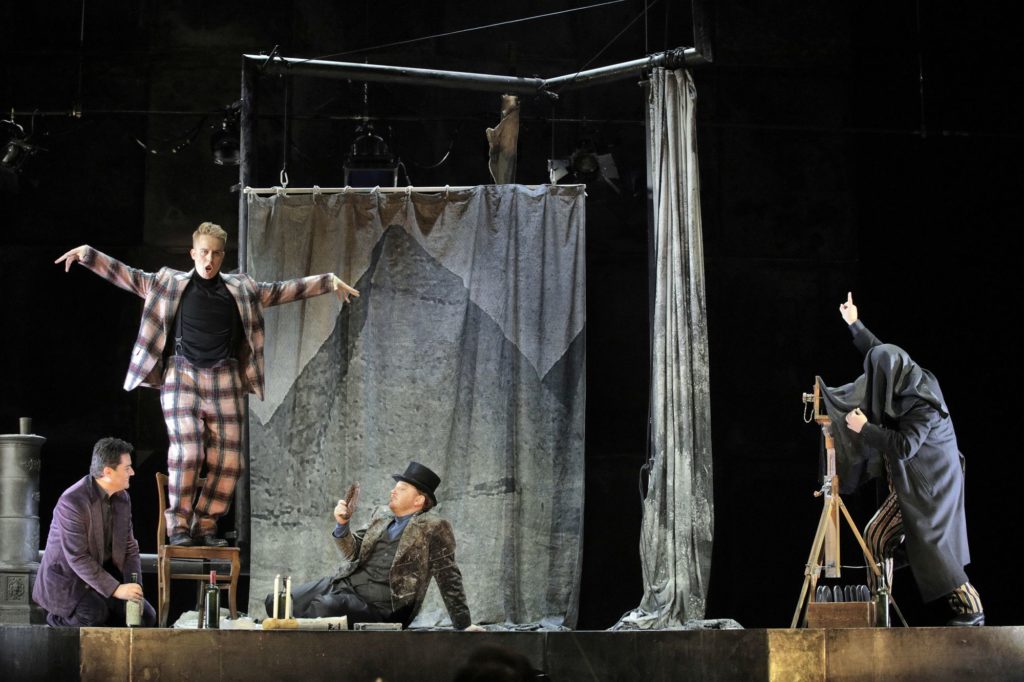 In 2017, Opéra National de Paris set its "La Bohème" in a spacecraft and on the moon. (The production comes back in 2020.) LA Philharmonic Music Director Gustavo Dudamel conducted. It was bold and exciting, and unlike any other "La Boheme" I'd seen.
So when LA Opera scheduled the old warhorse as the opener of the 2019-20 season, I wavered about going. Hadn't I already seen it so many times? How could this production top any of the others?
In the end, I couldn't resist. "La Boheme" is one of the most frequently performed operas for a reason: the music and the libretto. It doesn't seem to matter where it's set.
LA Opera Music Director James Conlon wrote a very personal note in the program this month, talking about how his enthusiasm for "La Boheme" was born when he sang in the children's chorus in a professional performance at age 12. "What has increased with time," he wrote, "is my admiration. It is about as perfect as an opera can be, not a note too many nor one too few. It makes its point concisely and rarely fails to be powerfully moving. … Theatrical and dramatic, its tightly structured form is exemplary. Puccini's music storytelling is without peer. Even after a lifetime of hearings, seeing how this is accomplished is part of the attraction."
Yet this is Conlon's first time conducting it at LA Opera. It doesn't seem possible. It was, however, the first Italian opera he conducted at the Met and his first collaboration with Plácido Domingo. And he's had plenty of other practice — at the end of this run, he said, he'll have 199 performances of Puccini operas. Conlon and the LA Opera orchestra never disappoint. Their "La Boheme" was gorgeous, both dramatic and characteristically energetic.
So, yes, by all means, go see "La Boheme." Go for the music and the story and the singers. Kihun Yoon (Marcello), Saimir Pirgu (Rodolfo), Nicholas Brownlee (Colline) and Schaunard (Michael J. Hawk) do a first-rate job of portraying the bohemians. Their banter is so playful and fun that you cannot help but laugh out loud. Yoon, who we have seen onstage here as Sharpless in "Madama Butterfly" (2016) and Scarpia in "Tosca" (2017), is a commanding presence. His voice is powerful and crisp, and his performance mesmerizing.
Barrie Kosky's staging is spare, but for the bacchanalia of Café Momus depicted on a rotating stage in Act Two. Instead of being exciting, that scene felt rather clichéd. The backdrop of the opening act revealed so much more with so little: an enlarged series of fading daguerreotypes with one woman's portrait struggling to resist the decay of time.
—Julie Riggott, Culture Spot LA
Shows continue through Sunday, Oct. 6. Visit https://www.laopera.org.