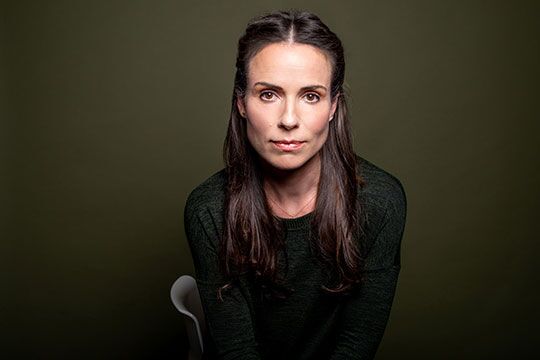 When Lilly Bright retches on stage, you feel it in the back of your own throat. Her one-woman show, American Standard: A Story of Enough which premiered at Highways Performance Space in Santa Monica, follows a years-long battle with disordered eating, a journey marked with retching, laughing and crying tears of sadness and joy.
Bright's struggle with bulimia takes place across the United States, starting with her childhood in West Virginia. With each new milestone, whether she enrolls in Northwestern or acting workshops, it is always "Then, the bulimia will end."
The disorder, heralded by the distant growls of a dog, chases her across the States and into her various endeavors; nothing, not college, the Big Apple, or even the Feldenkrais Method, lets her outrun it. It takes two forms, a goading temptress and a vicious deprecator, both committed to locking Bright within this cycle of self-harm.
Bright plays each of these characters, along with a varied and hilarious cast of relatives and acquaintances. Her movement training plays a strong part in each role, stiff and fidgety for her mother or crouched low and Smeagol-like when personifying her personal demons.
While said demons cast shadows across the stage, characters such as her parents bring humorous warmth to American Standard. In a misguided yet earnest attempt at encouragement, her Southern-drawled father shares how he "beat" a childhood compulsion to over-wash his hands; if he can beat that, she can beat bulimia. Her mother's meddling and criticisms, though partly responsible for Bright's issues with food, are written by someone who understands mother's love takes various, and sometimes challenging, forms: "Here, we love all our children equally!" Anyone with lovingly difficult parents will respond to this with laughter and tears.
When American Standard finds the right words, it transforms the mundane into something malevolent. A typical toilet becomes a "gaping throat of white porcelain," metaphors that reveal the extent of Bright's struggle. Her disorder colors every aspect of her life and impairs her relationships with family, friends and work.
Though the wordplay sometimes resonates as a little cliché, it does convey the normality of eating disorders for so many — those that struggle with them or know someone who does. In Bright's own immediate family, she's not the only one who has a difficult relationship with food. At the climax, she arrives at a simple conclusion with major ramifications: "None of this is working." It's only when she accepts qualities about herself, her family and her experiences that she learns not to escape but to live with many of them.
Like so many personal struggles, it comes after years of trial, error and experiences; she's had enough. Rather than wallow over lost time, Bright relishes in her victory, one she relives every day as self-worth and appreciation require "daily practice." The audience, too, shared in her victory based on seeing nary a dry eye by American Standard's end. The way she reconciles with her mother's less appealing qualities parallels how she overcomes her bulimia; neither really goes away. They still reside within themselves, but as Bright reassures us, nowadays they're a little more distant.
—Mick Jacobs, Culture Spot LA
Remaining shows:
• Mon. 9/23 at 8:30 p.m.
• Fri. 9/27 at 8:30 p.m.
• Sat. 9/28 at 8:30 p.m.
LOCATION:
Highways Performance Space @18th Street Arts Center, 1651 18th Street, Santa Monica 90404
TICKETS AND MORE INFO:
•American Standard- http://americanstandardshow.com
•American Standard Tickets – https://highwaysperformance.org/event/american-standard-show
• Highways – https://highwaysperformance.org
Mick Jacobs writes about music, performance and really anything else as long as you ask nicely. His words appear in Pop Matters, Spectrum Culture, and Pretty Much Amazing, and his own site Secondhand Setlists, where he shows off his collection of setlists, 50+ and counting. Feel free to start a conversation with him on Twitter, Instagram, or LinkedIn.