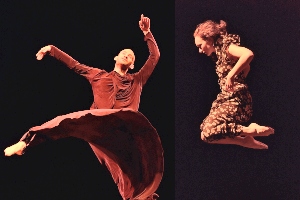 Happily these days, living choreographers are thinking about how to hold on to what they've created as they age and/or pass away. George Balanchine, Jerome Robbins and Merce Cunningham's respective trusts produce or license performances and screen films, and alumni continue to share their work. Paul Taylor has re-imagined his 65-year-old company as an American institution (Paul Taylor American Modern Dance), and the Martha Graham Company continues to reach out to young movers through always-challenging technique classes and productions, including younger, contemporary dance makers and formats that pair these artists with the classic Graham repertory and/or dancers.
Montreal-born and -based Margie Gillis has come up with her own way to address this issue. She created the Legacy Project. While she is alive and well (a young 66), she continues to teach, choreograph, lecture, mentor and perform. One aspect of this project is "Evolutions," presented Oct. 25 at the Theatre Raymond Kabbaz. She and eight seasoned performers infused the space with a collage of Gillis-isms. The show was set to excerpts from musical and pre-recorded texts that accompany the original choreography, and the celebrated dance maker layered her solos, an occasional male-female duet and a few group moments into an evening's work.
Without having much of a back story of her creations, a good part of the first two-thirds of the show left this audience member a little distanced from the material. One could immediately appreciate the nuanced qualities each dancer brought to her/his characters. The abstract and not-so-abstract gestures came across thick and rich. An occasional turn, leg lift (not a kick), deep plie, strong focus and gentle approach to the floor suggested narratives of intrigue. The quick versus slow attacks, the breath that could be seen in the movement, the eye contact made with the audience, this was compelling to witness. But, unfortunately, the potential depth of the piece was only suggested.
What were great were the two music visualizations toward the end of the show. Adam Barruch's interpretation of Gillis' 1985 solo to a J.S. Bach Cello Suite ("Slipstream") was breathtaking, and the full cast (mostly in flowing dark-colored dresses) swooping, circling and spinning at the finale to a Handel score ("Complex Simplicity of Love" 2003) reminded this viewer of the power of movement.
—Benn Widdey, Culture Spot LA