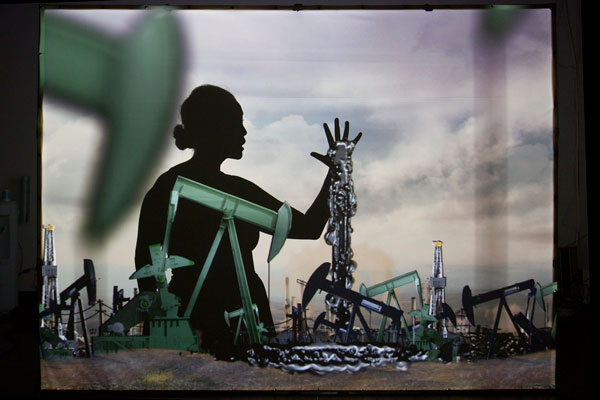 Animator/filmmaker/performer Miwa Matreyek presented four of her interdisciplinary creations Jan. 17 at REDCAT. To a full house of interested onlookers, the artist moved amidst an assortment of two and three-dimensional designs and objects. Never residing in one visual landscape for more than a minute, she consistently held the audience's rapt attention.
The pieces in the 80-minute program were arranged in chronological order of premiere date. Three of them highlighted her media/live interactions.
"Dreaming of Lucid Living," Matreyek's 2007 graduate school thesis project, set the stage for her then-future, now-current innovations. Her black silhouette — hair pulled tightly back into a small ponytail, form fitting top and pants (not tights) — is often in the center of the screen. Around it, in a large circle, appear decorative moving and static designs. Other times, birds fly across the canvas, four-legged animals cavort, a cat sits on a table, the shadow of the creator/performer types or cooks, and a body's skeleton is imprinted on her chest. In profile, she mouths the words of the accompanying song written by Matreyek and Anna Oxygen. A 21st-century view of the rollicking life she wants to live.
In "Myth and Infrastructure" (2010), more flying birds, swimming fish, small and large men. The standing shadow/artist carefully traverses the knee-high cityscapes; another human shape climbs up and down a ladder projected on top of Matreyek's body as she positions herself in profile on hands and knees. More music by Anna Oxygen, Caroline and Mileece. Lots going on.
Set for a formal premiere this weekend at the New Frontier at Sundance Festival, "Invisibly Yours" brings the designing artist together with composer/performer Morgan Sorne (aka SORNE). Starting the 25-minute piece with a demonstration of some of his vocal layering techniques, the singer (with mid-back-length straight dark hair) unleashes melodies, tones and assorted noises originally part of his independently created opera, "House of Stone." From this ongoing epic, some songs now enhance Matreyek's work.
Continuing to move behind a six-foot square projection surface and appear as a black silhouette, Matreyek layers a panoply of real, stylized and abstracted images of current environments that refer to our climate crisis and the negative impact humans have had on Earth's natural elements. On this vertical canopy, a Pacific blue color wash soon ripples like a moving body of water. Then a black shape extends like another liquid over this veritable ocean. Distant and close-up oil derricks, pumps and refinery-like structures soon take over. The shadow performer walks across the territory, mimes a breast stroke in the water and gestures other locomotor and representational actions. Meanwhile, the sound varies with long, deep guttural notes, electronically created bass drums, an abstract and then identifiably American English libretto and rhythmic constructions. The two continue this within other scenarios of nature being damaged, more understandable movements and louder and softer melodic and atmospheric intonations.
Matreyek's message is clear, and the eye candy doesn't stop. Both she and Sorne are masterful at their respective crafts. What this writer missed was a more dramatic visual arc. With one gorgeous image succeeding the next, it sometimes felt too much or redundant. Perhaps this lessened the power of the potential impact, but it was never boring or worth looking away.
The overall response by this journalist is topped by the Wow! factor and Matreyek's abundant creative, seeming stream of consciousness ideas and sharing of her brain with the world. Press materials suggest that the artist is seeking an emotional response from viewers. To that end, this viewer didn't get there. The artist has all her tools in place and knows how to use them. Though she may not have reached her full affecting goals yet, witnessing her journey there is bound to be an exciting adventure.
Also on the program was the short film "Lumerence" (2012).
—Benn Widdey, Culture Spot LA