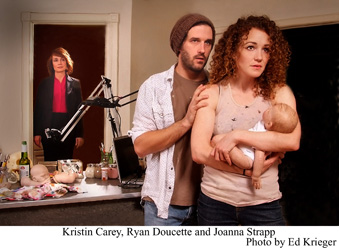 The chance to immerse oneself into a strange new world comes with some frequency in cinema, where filmmakers can and do take you virtually anywhere. But dramatic plays tend to explore the inner spaces of emotion and memory — and being human, this is more familiar terrain. Combining the best of both traditions, Zayd Dohrn's drama "Reborning" (in its L.A. premiere at the Fountain Theatre) does indeed introduce us to a strange new world — at least new to me — while offering disturbing glimpses into lacerated psyches. The result is unforgettable.
Reborning is the name for a real subculture, which sprung up in the late 1990s, where collectors buy and "adopt" hyper-realistic artificial babies, impeccably crafted with up to 80 layers of paint to show the most minute details such as faint blue veins, rashes and flecks of drool. "Parents" treat the dolls as if they were living infants, building nurseries and throwing birthday parties and baby showers for them. The artisans who make these dolls are known as reborners, and this play focuses on one such woman, Kelly (Joanna Strapp), who practices her craft in an apartment she shares with her boyfriend Daizy (Ryan Doucette).
Kelly seems exhausted, empty and emotionally anesthetized as she works on her doll orders, despite her boyfriend, who makes realistic rubber sex toys, attempting to loosen her up. It's not until a certain client, Emily (Kristin Carey), shows up that Kelly's emotional floodgates begin to open. After hearing Emily's story about how she lost her own child 20 some years ago, Kelly begins to suspect that her client may be her own mother and all her repressed pain begins to reemerge, building until a dramatic catharsis completely shatters her.
The set is Kelly's studio/living room/kitchen, which does double duty as a café in one scene. A very effective prop in the set is a video monitor that serves as a TV set as well as a video monitor that shows us — in real time — close-ups of the infant as Kelly works on it. With this close-up camera work, we can experience the creepy verisimilitude of Emily's emerging "baby" as well as the results of Kelly's ongoing efforts to make it look more and more like herself. The doll understood as physical analogue to Kelly's psychological turmoil works well and sets up the best scene where the doll seems to come alive.
All the emotional turbulence could come off as maudlin or melodramatic if the acting were of lesser skill. Thankfully, Director Simon Levy cast three actors who are talented and play their roles naturally and without artifice. Strapp, in particular, nails the role of latent psychological basket case, taking us from numbness to obsession and beyond in the course of an hour. In a more nuanced performance, Carey's Emily shows us another side of pain — and delusion — as she sings a lullaby to a battered doll.
Yes, this play focuses on dark recesses of the human psyche, but there are comedic moments too, and we also get a gentle lesson about the power of healing. "Reborning" also says something about society at large and the unusual ways that some of us choose to reach out for comfort and family in an increasingly disconnected world. Even apart from the fine acting, there are other reasons to see "Reborning": If you ever liked the "Chucky movies," this is an effective take on the doll menace theme; and you will also get an up-close, firsthand look at the reborning craft (that doll is eerie!) and its fascinating subculture.
—David Maurer, Culture Spot LA
"Reborning" continues through March 15 at the Fountain Theatre, 5060 Fountain Ave., LA 90029. Show times are Thursdays through Saturdays at 8 p.m. and Sundays at 2 p.m. Tickets are $15 to $34.95. Call (323) 663-1525, or visit www.FountainTheatre.com.