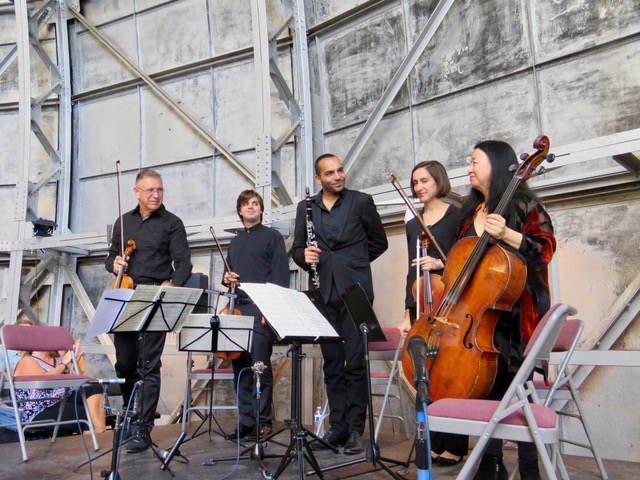 The closing concert of the third summertime season of Sunday Afternoon Concerts in the Dome at Mt. Wilson Observatory on Sunday featured two masterpieces for clarinet quintet: the Quintet in A Major, K. 581 by Mozart and the Quintet in B Minor, Op. 115 by Brahms. Both works were composed late in their respective composer's lifetimes, and both demonstrate the absolute mastery of writing for clarinet and strings.
Founder and Artistic Director Cécilia Tsan assembled four French musicians for this concert, violinists Ambroise Aubrun and Henry Gronnier, violist Virginie d'Avezac and clarinetist Pierre Genisson, with Tsan on cello.
The Mozart quintet is light and airy, which provided just the right accent for the 100-inch telescope dome, especially once the dome was opened and the sun shone through. The Brahms quintet is more dense, urgent and serious.
The playing by the musicians was generally first rate. Gronnier played first violin for the Mozart and then switched with Aubrun for the Brahms. Gronnier's playing on the Mozart was good, but there were some weak spots, especially during some of the pianissimo parts. He never really seemed to lead the group. Aubrun, on the other hand, was definitely the person to take over in the Brahms. His strong performance gave the Brahms even more urgency. Of course, the standout was clarinetist Genisson. Both pieces are really small concertos for clarinet and string quartet and the clarinet is definitely the center point. Genisson accepted the responsibility and ran with it. His playing was light and silky smooth in the Mozart and wonderfully expressed the longing and yearning that Brahms wrote.
Walking up to the 100-inch telescope dome on a beautiful warm fall day at Mt. Wilson, one could hear the strains of the clarinet wafting through the pine-scented mountainous air as the musicians rehearsed. At that moment, all felt right with the world, and we knew we were in for a treat.
If you haven't taken advantage of the Sunday Afternoon Concerts in the Dome, you're missing out on one of the most original and interesting cultural events in the Los Angeles area. The series offers some of the greatest music ever composed in a historical location inside the dome, where some of the greatest scientific discoveries about the universe were made, all against the backdrop of the mountains of the Angeles National forest.
—Henry Schlinger, Culture Spot LA
Visit https://www.mtwilson.edu.