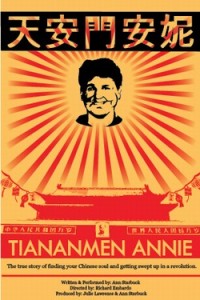 Commemorating the 25th anniversary of the Tiananmen Square massacre, Ann Starbuck vividly performs the one-woman show she wrote reliving her experiences of Beijing circa June of 1989. With much enthusiasm and commitment to her storytelling, Starbuck deftly illustrates to the Hudson Guild Theatre audience the intimacies of the Chinese people she encounters — MaeMae, the young Chinese girl who befriended Starbuck; the elder money changer lady with the tiny bound feet; her possibly smitten professor; the hunger-striking protester Joe; and both her parents.
Starbuck, a self-described heavy-set white girl, in her path to find herself, studied Chinese in school and then spent some time in China, both as a student and as an interpreter for CNN. Within a basic, utilitarian black set, with a backdrop of red and white panels and red platform stairs by set designer Brett Lawrence, Starbuck smoothly rearranges the three large red and yellow crates around the stage to denote various locales (i.e., an airline ticket counter, a Chinese pajamas street vendor, a classroom, a taxi, Tiananmen Square). Starbuck also easily navigates between English and well-accented mandarin.
Richard Embardo directs this 75-minute piece at a moving clip with an almost too quiet, anti-climactic end. And maybe a cleaner transition in the intro bridging present day to the bulk of the play's flashback period?
—Gil Kaan, Culture Spot LA
"Tiananmen Annie" continues through June 30 at the Hudson Guild Theatre, 6539 Santa Monica Blvd., LA 90038. Show times are Mondays at 8 p.m., Wednesday (6/18) at 8 p.m., Thursday (6/12) at 8 p.m., Sundays (6/8, 15, & 29) at 7 p.m. For tickets, visit www.Plays411.com/TiananmenAnnie.