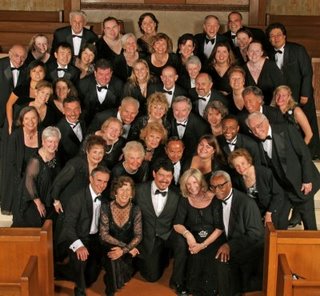 If you missed the first performance of the Verdi Chorus Fall Concert, you have one more opportunity to hear a delightful program of opera highlights: Sunday, Nov. 22, at 4 p.m. at the First United Methodist Church in Santa Monica.
Music Director and Founding Artistic Director Anne Marie Ketchum is a masterful programmer, presenting a banquet of operatic offerings including the savory appetizer of Verdi and the substantive main course of Bizet, cleaning the palette with Puccini and finishing with the fruit and cheese of operetta. The concert began with a refreshing surprise of excerpts from a lesser-known Verdi opera, "Giovanna d'Arco" ("Joan of Arc"). The chorus was joined by tenor Bradley Wisk for the second selection in this set. Wisk has a wonderful Italian sound, but I would have liked him to sing off book.
A lengthier set from Bizet's "Les Pêcheurs de Perles" ("The Pearl Fishers") closed the first half. With the juxtaposition of Verdi and Bizet, one could readily hear how well Verdi composed for chorus, with what facility he wrote for the human voice. While Bizet's music is beautiful, there were times the high tessitura of the choral writing was a cause of strain for the sopranos especially. Wisk and Museop Kim gave a lovely rendition of the famous "Pearl Fishers" duet. Earlier in the week, soprano Ani Maldjian had to be replaced due to illness. Fortunately Shana Blake-Hill was available, and flew in from New York. What a treat it was to hear Blake-Hill join the chorus for the show piece "O Dieu Brahma." After the Act II Entr'acte chorus, the soprano sang "Comme autre fois," with the beauty and tenderness of a consummate artist. The soloists returned to the stage for the Act II Finale which carried the first half to a thrilling close.
Excerpts from Act II of Puccini's "La Boheme" opened the second half, with capable chorus members – Jennifer Miller, Robert Norman, Mauricio A. Palma II, and Mike Davis – filling in the missing roles. The teasing between Blake-Hill's Musetta with Kim's Marcello and Alcindoro (Mike Davis) was amusing. Wisk and Kim again joined forces for the charming "O Mimi, tu più non torni" duet.
A good portion of the audience grew up on the Romberg and Victor Herbert selections. "The Drinking Song" and the "Serenade" from "The Student Prince" transported us to a less troubled time. Kim's rendition of the Great Depression classic, Yip Harburg and Jay Gorney's "Brother, Can You Spare a Dime," brought the house down. After the closing numbers "Italian Street Song" and "Ah, Sweet Mystery of Life" from Victor Herbert's "Naughty Marietta," the audience responded enthusiastically with a standing ovation.
For more information about today's concert, call (310) 684-3024, or visit www.verdichorus.org.