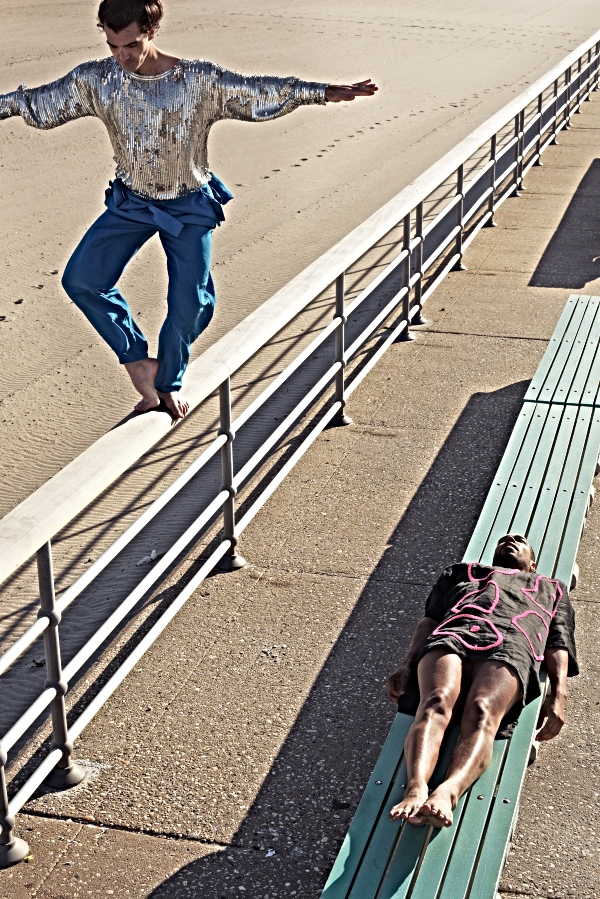 Created in 2013 by dancer/choreographer Rebecca Bruno, homeLA describes itself as a nomadic site-sensitive platform for movement-based and interdisciplinary artists to explore the myriad connections to space and place and the many interpretations of the word "home." Often taking brief residence in privately owned or public locations, small groups of performance makers are welcomed into a varying range of interesting small-scale architectural environments and invited to investigate their artistic practice in new contexts.
This weekend, dance artists Rashaun Mitchell + Silas Riener and interdisciplinary artist Julie Tolentino dig into the Neighborhood Unitarian Universalist Church in Pasadena to uncover moments and perceptions never seen before.
On Saturday, March 26, and Sunday, March 27, 2022, from 5 to 6:30 p.m., the three creators will present two original works.
Tolentino, with the assistance of her sister, Rita, artist/musician Marc Manning, NUUC Choir Director Dr. Anada Robles, video maker George Gallardo-Katth and the performers, will premiere "LOVE COME QUICK." The piece is inspired by the site, its 1906-07 origins as the Cole House, its American Arts and Crafts sibling architects Greene and Greene and its Eastern-influenced craftsmanship.
Mitchell and Riener will unfurl "Time Being," part of the duo's ongoing practice, "Desire Lines." As the audience follows the performers in this outdoor experience, promotional materials state that the work "proposes dance as an act of healing, a tool for spiritual connection, a space to celebrate, commemorate and express devotion in contemporary society." Incidental and focused "hot spots" of choreography reveal unofficial routes or social trails that illuminate this creative pilgrimage. Recorded audio scores and "sound meditations" help guide the viewer and highlight the connections between the environment and the observer.
Masks, full vaccinations and boosters required for entrance. Personal headphones or earbuds are recommended to experience all aspects of the program.
—Benn Widdey, Culture Spot LA
Location:          
Neighborhood Unitarian Universalist Church, 301 N. Orange Grove Blvd., Pasadena 91103
Tickets: $35
https://www.eventbrite.com/e/homela-at-the-neighborhood-unitarian-universalist-church-tickets-268142570647
Info:                 
https://www.homela.org/news/homela-is-thrilled-to-announce-l9bgc  
http://www.rashaunsilasdance.com