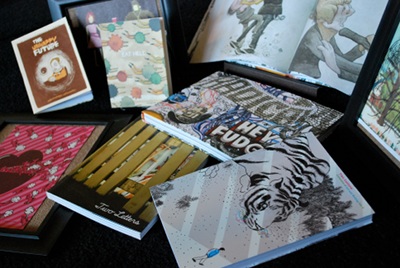 In the heyday of Kindle and Google Books, print literature often goes the way of the handwritten letter – which is to say, the digital way.  Narrow Books, owned and operated by LA locals Christopher Lepkowski and Mark Dischler, goes the way of literary art.
With bindings and paper to give a stationery enthusiast goosebumps, titles like Hey Fudge encompass images, narrative, and haunting meetings of the two.  Travis Millard's cumulative years of work for the title are in 240 pages of stitch-bound clay composite paper – clarifying, as if there were doubts, the enthusiasm and respect Lepkowski and Dischler have for their products.
With much the same energy, the duo also distributes miniature books and zines, typically self-published by authors and reaping only a small commission for Narrow Books.  As Lepkowski points out, these are meaningful works "because their economics are so democratic."   Printing costs, thus price tags, move down considerably – but don't seem to sacrifice artistic draw.  The third self-published 1Up MegaZine, which Narrow Books' website calls its "prettiest" issue, sells for less than half the sticker price of Hey Fudge, but bursts with the same creative effort.
A localized aesthetic of color, line, and attitude permeates Narrow Books publications, making them both contenders at LA booksellers and a point of due pride for localphiles.  Their appeal contrasts a symptom of the economy: whereas titles from monster publishers are paring down décor and reflecting consumer pragmatism, even the most affordable items from Narrow Books validate and indulge the act of book-buying. (In a recent store display at Book Soup in West Hollywood, the anthology Two Letters, Vol. 2 immediately drew this writer's eye.)
Lepkowski points out that "we do tend to publish mostly LA artists and writers…. It's their work that we most often look at, like, and decide is criminally underexposed." Esther Pearl Watson self-published Unloveable Vol. 1, a collection of her zines that often decorates the Narrow Books sales table.  Her drawings resemble Aline Kominsky Crumb's: they bring to light the messy nonfiction process of American teenage years, and echo the underground comics movement of indie publishing begun decades ago.  Other local artists and writers at Narrow Books include Millard, John Pham, and the Joseph Mattson of recent Empty the Sun attention.  (That being said, there is also work from France, from the Union of Myanmar, and a recent publication, Megan Whitmarsh's Yeti Logic, imported from Spain and vended with Narrow Books.)
The break-even nature of the endeavor encourages creative marketing by Lepkowski and Dischler, who have expanded their business to events like the Downtown Art Walk, Unique Los Angeles, and the Alternative Press Expo, selling their own titles alongside T-shirts and music, other publishers' zines and minis, and individual prints from hand-picked artists.  In a cross-generic period of book history, the meeting of Lepkowski's interest in literature and Dischler's in design has created a timely and worthwhile pursuit of book arts and creative distribution.
Titles from Narrow Books, as well as the self-published materials they distribute, are available at Skylight Books, Book Soup, Secret Headquarters, Giant Robot, and more, as well as online at www.LittlePaperPlanes.com and www.NarrowBooks.com.