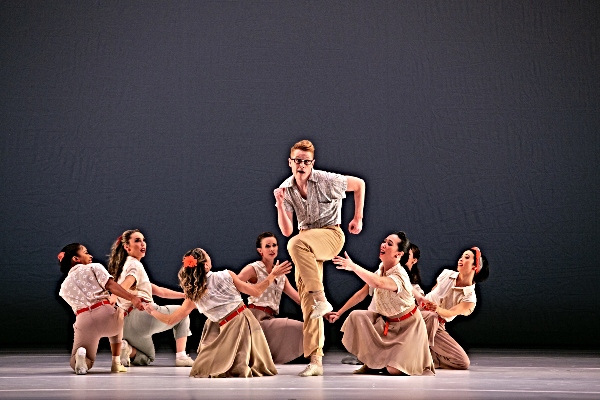 Opening the 20th season of Glorya Kaufman Presents Dance at The Music Center will be the world-renowned Paul Taylor Dance Company. Audiences will be introduced to the ensemble's new resident choreographer, Lauren Lovette, and ruminate on the impact of war in the three dances presented in each show. Performing Friday and Saturday, April 28-29, at 7:30 p.m. and Sunday, April 30, at 2 p.m., the virtuosically physical movers will showcase the late, but iconic choreographer Taylor's "Company B" and the classic Kurt Jooss' "The Green Table: A Dance of Death in Eight Scenes."
Surrounded by these classics of early- and late-20th-century modern dance, the newly appointed in-house dance maker, Lovette will unveil her "Dreamachine," set to the music of Michael Daugherty's 2014 scintillating 30-minute percussion concerto. "Company B" is accompanied by popular music of the 1940s recorded by the Andrews Sisters. Jooss' legendary work resides in an aural landscape created by Fritz Cohen and performed on stage by two pianists.
Earlier in the week, Angelenos can participate in an "Evening of Ideas and Conversation: How Is Art a Weapon in War?" on April 25. Inspired by the anti-war and political messaging in two of the works being highlighted in this week-long residency, this discussion is produced in association with Zócalo Public Square on Jerry Moss Plaza at The Music Center at 7 p.m. This will also be live streamed.
On Sunday, April 30, at 1 p.m. at the Dorothy Chandler Pavilion's Stern Grand Hall, there will be a pre-show talk with former PTDC dancer and now Artistic Director Michael Novak and Lovette. This new AD was appointed by the famed dance maker himself before his death in 2018. Lovette, formerly a principal dancer with the New York City Ballet, took on her role as resident choreographer in March 2022.
—Benn Widdey, Culture Spot LA
Location:
Dorothy Chandler Pavilion, 135 N. Grand Ave., LA 90012
Live stream info:
youtube.com/zocalopublicsquare
RSVP for the evening of ideas and conversation at musiccenter.org/zocalopanel.
Tickets:
$34-$125
https://www.musiccenter.org/tickets-free-events/tmc-arts/dance/paul-taylor-dance-company/
Info:
https://www.musiccenter.org/tickets-free-events/tmc-arts/dance/paul-taylor-dance-company/
Photo credit: Lee Duverneck and company in "Company B" / Photo by Whitney Browne