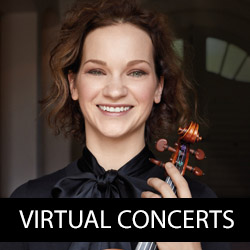 The Philharmonic Society of Orange County has updated its 2020-21 season, including the addition of new artists, digital initiatives to further the reach of its musical and educational offerings, and an optimistic intent to resume in-person performances in the spring.

Diversity and a spotlight on historically underrepresented communities and voices in classical music will serve as a key focal point of the Philharmonic Society's fall programming, culminating in December with a multi-day "Triumph Over Adversity" Festival curated by musicians and brothers Anthony and Demarre McGill. Additional fall highlights include the addition of a virtual Moon Festival Celebration with pipa virtuoso Wu Man, and appearances by violinist Hilary Hahn as well as cello-piano sibling duo Sheku and Isata Kanneh-Mason as the Philharmonic Society's inaugural Virtual Artists-in-Residence.

Contingent on approval by public health and safety officials, the Philharmonic Society plans to resume in-person concerts in spring 2021 with a revised lineup of performances. Several concerts scheduled in the Philharmonic Society's originally planned season were impacted by tour cancellations due to restrictions on international travel and venue closures, and the Philharmonic Society is actively working towards reengaging these performances in future seasons.
There will be free virtual concerts as well as paid ones and some three-concert packages for $50.
For programming details, visit http://philharmonicsociety.org/2021season/.