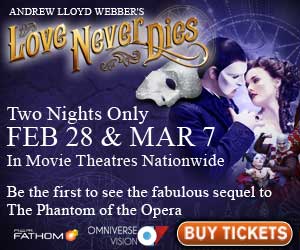 Be one of the first to see Andrew Lloyd Webber's "Love Never Dies," the highly anticipated sequel to "The Phantom of the Opera," when NCM Fathom and Omniverse Vision present the first U.S. showing of the three-time Helpmann Award winner in movie theaters nationwide on Tuesday, Feb. 28, with a second showing on March 7, both at 7:30 p.m. local time. One lucky Culture Spot reader will win a pair of tickets to the movie at the AMC Century City on Feb. 28 (see details below).
The movie is a fully staged pre-recorded performance of "Love Never Dies," captured from The Regent Theatre in Melbourne, Australia. This mesmerizing follow-up to the multi-award-winning "The Phantom of the Opera" features a 21-piece orchestra and an impressive cast of 36, including actors Ben Lewis as Phantom and Anna O'Byrne as Christine Daaé. The production promises to bring audiences into a world of passion, obsession and romance. Based on a book by Ben Elton, the captivating love story of the Phantom and Christine continues in New York's playground, Coney Island. After his disappearance from the Paris Opera house, the Phantom begins a new life in New York amongst the freaks and sideshows. The only thing missing is his musical protégée Christine. In an effort to win her back, the Phantom lures Christine and her family to this strange new world.
The film includes an introduction from Lloyd Webber discussing the creative process and stumbling blocks of developing "Love Never Dies" and behind-the-scenes content that follows Lloyd Webber on set as he provides his creative insight and direction to the cast and crew.
Culture Spot readers interested in attending the Feb. 28 screening in Century City should email editor@CultureSpotLA.com with their answer to the following trivia question:
When did "The Phantom of the Opera" debut in New York City?
One winner will be selected at random from entries received by Wednesday at noon and will be notified by email to obtain a mailing address for the pair of ticket vouchers. Good luck!
For more information, visit http://www.fathomevents.com/performingarts/event/loveneverdies.aspx.