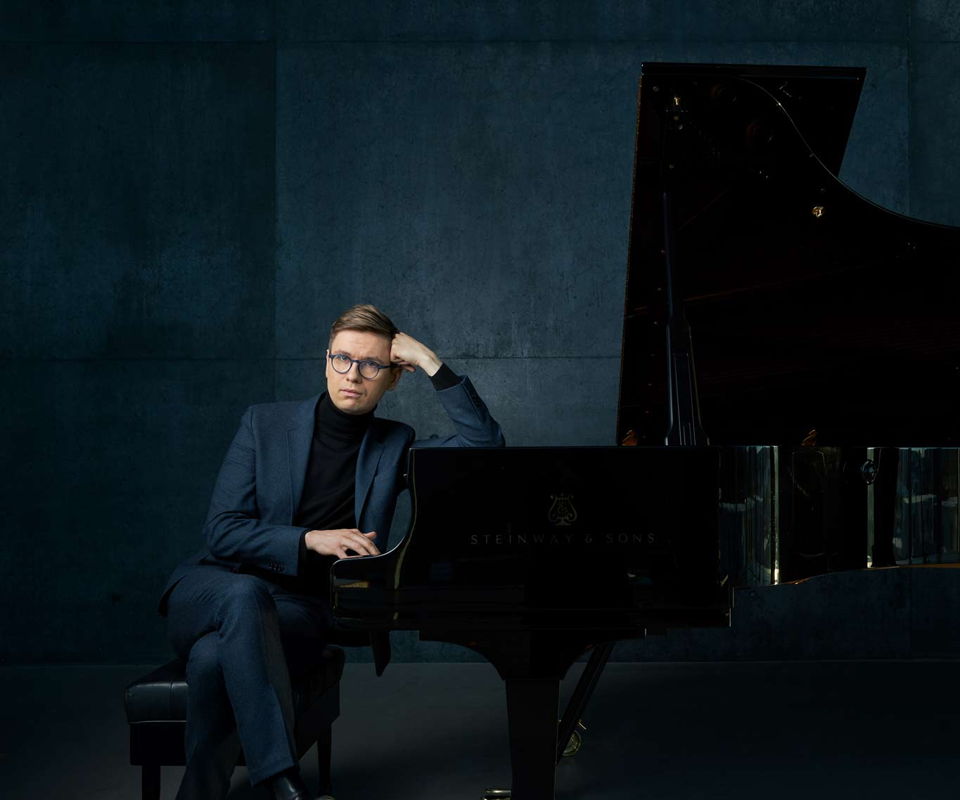 On Wednesday, the Icelandic pianist Víkingur Ólafsson performed at Walt Disney Concert Hall a live version of his most recent recording on Deutsche Grammophon, "Mozart and His Contemporaries." Ólafsson wrote the following about the recording: "This is the period when Mozart was not just perfecting the Classical tradition but subtly subverting it, his graceful touch as featherlight as always but the shadows darker, the nuances and ambiguities more profound."
Speaking of a featherlight graceful touch, throughout the performance, Ólafsson demonstrated the lightest touch of any pianist I've heard. At other times, his playing was sparkling, just like much of the music. Still, in the darker pieces (e.g., the Mozart sonata in C minor and the Adagio in B minor), he brought out the romantic nature of Mozart. As he told the audience before he played, Mozart's impressive output (more than 800 works) in such a short amount of time (less than 30 years) spanned the Baroque, Classical and Romantic and paved the way for Beethoven. In all respects, Ólafsson's performance showed immense control and focus, and the audience was entranced.
Ólafsson performed the 90-minute recital without intermission and without applause between the individual pieces by his own request. He obviously wanted to have the greatest impact on the audience of these selective pieces and his ordering of them. As one can see from the list (below), in addition to several pieces by Mozart, Ólafsson performed selections by some lesser-known (e.g., Galuppi, Cimarosa) and better-known (e.g., C.P. E. Bach and Haydn) contemporaries of his. The selections by Mozart ranged from small (in length, but not musicality) to larger: two of his piano sonatas. The two sonatas — the well-known Sonata for Piano No, 16 in C major, K. 545 with its sunny disposition and immediately recognizable melodies and the darker and almost romantic sounding Sonata No. 14 in C minor, K. 457 — were a perfect contrast of Mozart's sonata composing.
Ólafsson's performance, serious, deeply emotional and obviously inspired, contrasted with his affable, entertaining personality. When he first appeared on stage, he grabbed a microphone and assured the audience that he wasn't going to do stand-up comedy. But then he proceeded to be very funny, drawing laughter from the audience as he explained what he was going to do.
At the conclusion, when Ólafsson was brought back onstage several times, he announced that it would be very difficult to follow the program with an encore; however, he did play one that fit nicely the mood of the evening: a movement from a J.S. Bach organ sonata, which Ólafsson said would sound better on the WDCH organ.
Ólafsson appears much younger than his 39 years, and he may not be as well-known as some other pianists of approximately the same age, but he should be. Fortunately, if you missed the concert, you can still hear it by purchasing the CD, which, by the way, has garnered 4.7 stars by 208 reviewers on Amazon. If you manage to get it, you will be swept into Ólafsson's world of Mozart and his contemporaries. Highly recommended!
—Henry Schlinger, Culture Spot LA
PROGRAM:
Baldassare GALUPPI Piano Sonata No. 9 in F minor I. Andante spiritoso
MOZART Rondo in F for piano, K. 494
C. P. E. BACH Rondo for Keyboard in D Minor, Wq 61/4
CIMAROSA arr. ÓLAFSSON Keyboard Sonata No. 42 in D minor
MOZART Fantasie for Piano No. 3 in D minor, K. 397
MOZART Rondo in D major
CIMAROSA arr. ÓLAFSSON Keyboard Sonata No. 55 in A minor
HAYDN Sonata for Piano in B minor, No. 47, Hob XVI:32
I. Allegro moderato,
II. Menuetto – Trio (Minore),
III. Finale. Presto
MOZART Kleine Gigue in G major K. 574
MOZART Sonata for Piano No. 16 in C major, K. 545
I. Allegro
II. Andante
III. Rondo. Allegretto
MOZART arr. ÓLAFSSON String Quintet No. 4 in G minor K. 516
III. Adagio in E flat major
Baldassare GALUPPI Piano Sonata No. 34 in C minor
I. Larghetto
MOZART Sonata for Piano No. 14 in C minor, K. 457
I. Molto allegro
II. Adagio
III. Allegro assai
MOZART Adagio for Piano in B minor, K. 540
MOZART Ave verum corpus K. 618
Visit https://www.laphil.com/.
Photo credit: Photo of Víkingur Ólafsson courtesy of LA Phil