Violins of Hope

Niv Ashkenazi, Violin
Lindsay Deutsch, Violin
Janice Mautner Markham, Violin
 
An online performance from The Soraya can be viewed beginning Friday, Nov. 20, at 5 p.m. PT.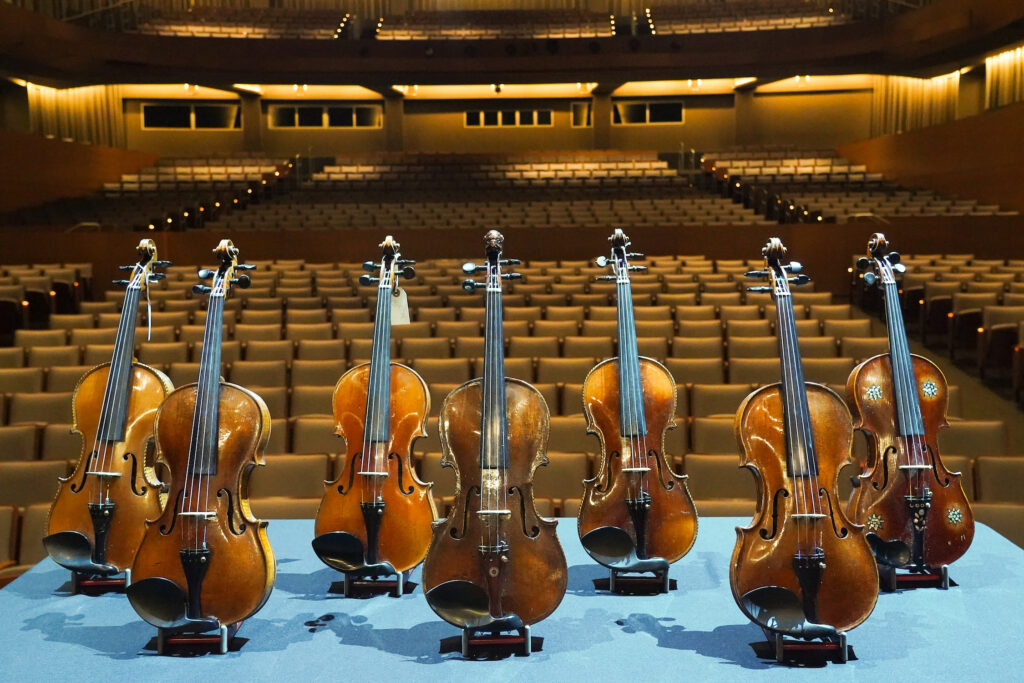 Violins of Hope is an internationally renowned collection of over 60 stringed instruments rescued from the Holocaust and restored by second-generation violinmaker, Amnon Weinstein, and his son, Avshalom in their shop in Tel Aviv. Last March, the collection was brought to Los Angeles for a month-long series of concerts, exhibits and student educational programming, most of which were suspended in response to the then-growing worldwide health crisis.

Three Violinists – Niv Ashkenazi, Lindsay Deutsch and Janice Mautner Markham – performed a video-taped farewell concert, on the instruments they were to play at various Southland Violins of Hope concerts, taped safely per Covid regulations for City of Los Angeles and State of California, before they were recently returned to Tel Aviv. The concert will be broadcast on-going online from The Soraya beginning Friday, Nov. 20, at 5 p.m. (Pacific).

Violins of Hope, an artistic and educational project, is composed of instruments that were owned by Jewish musicians before and during the Holocaust. Violins in the collection were played in the concentration camps and ghettos, providing a source of comfort for some and a means of survival for others. Above all, the instruments represented strength and optimism for the future during mankind's darkest hour. Wherever there was music, there was hope.

The Weinsteins, who founded the project, are Israeli luthiers who collect the instruments, refurbish them to concert quality, and bring them to communities all over the world.

After a cancellation caused by the global pandemic, the 'Violins of Hope' were secured under The Soraya stage for seven months until they were safely returned to the Weinsteins.

Although the instruments make beautiful museum pieces, at the heart of the Violins of Hope project is the Weinsteins' commitment to ensuring that the instruments are played again. While some of the musicians who originally owned the Violins of Hope may have been silenced by the Holocaust, their voices and spirits live on through performances on their instruments.
Violins of Hope has been featured in the documentary, Violins of Hope: Strings of the Holocaust, and a book Violins of Hope: Violins of the Holocaust—Instruments of Hope and Liberation in Mankind's Darkest Hour.
 
Virtuoso Niv Ashkenazi has captivated audiences with his heartfelt musicianship and emotional performances. Praised for his "lush sound" and "passionate playing" (CASA Magazine) and "formidable technical powers" (Santa Barbara News-Press), he has made several Carnegie Hall and Kennedy Center appearances, and has performed in Europe, the Middle East, and across North America. His conviction that the impact of music serves people beyond the concert stage motivates him to collaborate on projects that create a strong emotional bond with his audience.

Lindsay Deutsch has become a much sought-after soloist and entertainer and is presently touring as solo violinist with Yanni, just returning from Saudi Arabia and presently on a 60 city tour with him in the U.S. "Lindsay is one of the most interesting, imaginative, and downright thrilling young violinists in America today," said Jeffrey Kahane, conductor for LACO and world renowned pianist.
 
Janice Mautner Markham is a Los Angeles-based artist/activist/violinist and arts educator. She is a proud founding member of the Klezmer Gypsy-rock band, Mostly Kosher. The celebrated ensemble radically reconstructs Judaic and American cultural music through ravenous klezmer beats and arresting Yiddish refrains. In response to the poetry and folk music of Judaic roots, their reimagined voice resounds with messages of social justice, human dignity and mutual understanding. The band is a fixture at renowned Southern California stages such as the John Anson Ford Amphitheatre, Skirball Cultural Center and The Torrance Center for the Arts. They have also graced the stage of the Dorothy Chandler Pavilion for a live television broadcast to over half a million viewers in 2015, 2017 and 2019. Mostly Kosher has had the honor of being the first Jewish music ensemble at the Disney parks and has performed a two month residency at Disney California Adventure Park, recently completing season 4.
 
Watch the trailer here: https://youtu.be/3704waraOZM
Please visit https://www.thesoraya.org for viewing information.