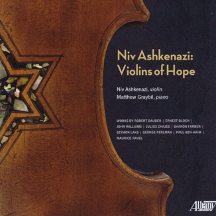 On Violins of Hope (Albany Records), violinist Niv Ashkenazi and pianist Matthew Graybil perform a variety of short works for violin and piano by such composers as Ernst Bloch, Maurice Ravel, John Williams ("Theme from Schindler's List") and Sharon Farber, as well as Jewish composers who were affected in some way by the Holocaust.
Ashkenazi, a Juilliard graduate who studied with the famed Itzhak Perlman, plays a Violin of Hope, one of many such violins that were owned by Jewish violinists during the Holocaust and were restored by father and son Israeli luthiers Amnon and Avshalom Weinstein. The Weinsteins have made sure that these instruments are not only museum pieces, but are played throughout the world.
Violins of Hope is the first solo album to be performed on one of these violins, and Ashkenazi is the only violinist to have one of these instruments on long-term loan. According to the Weinsteins, "Niv is the only violinist we trust absolutely to bring out the sounds of long gone horrors, with an honest sound and much love for this music and our legacy."
Ashkenazi's playing on this album is rich and warm and conveys all the emotion of the music. Knowing the history of the Violins of Hope makes Ashkenazi's sound especially haunting. Fellow Juilliard grad Graybil's accompaniment is perfectly suited for Ashkenazi's playing. Together they present an intimate portrait of each piece, and the cumulative effect is one of awe — especially of works that were composed in and survived concentration camps. The album is a historical and musical gem.
Of interest to those who live in Los Angeles is that Ashkenazi not only serves on the board of the Los Angeles Youth Orchestra, but he is a core member of Street Symphony, an LA-based nonprofit, whose founder and artistic director is former Los Angeles Philharmonic violinist Vijay Gupta. Street Symphony places social justice at the heart of music making and serves communities disenfranchised by homelessness and incarceration in Los Angeles County. Since its inception in 2011, Street Symphony has performed more than 400 free world-class concerts for disadvantaged people in Los Angeles.
But that's not the only Los Angeles connection. The CD was recorded in the Great Hall of the Younes and Soraya Nazarian Center for the Performing Arts (The Soraya) at California State University, Northridge, just north of Los Angeles, where Ashkenazi is artist in residence and where he and Graybil were scheduled to perform in this spring What a great idea to record the album in this venue, not only because the artists were planning to perform there, but because the acoustics for these instruments were perfect. Kudos to recording engineer Rich Breen for capturing the intimate sound of Ashkenazi and Graybil's playing in a concert hall.
Ashkenazi's spring performance was going to be part of the Violins of Hope project, a month-long series of concerts, an exhibit and educational programming. These events were suspended in response to COVID-19. Some of them have been rescheduled for January/February 2021. Other scheduling changes are still in the works and will be announced at a later date. Ashkenazi plans to perform at The Soraya and with the Long Beach Symphony.
—Henry Schlinger, Culture Spot LA
For more information, visit: